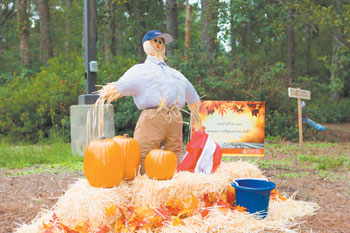 As its name implies, the Cape Fear Botanical Garden's annual Heritage Festival, to be held Oct. 5 from 9 a.m.-2 p.m., is a throw-back to earlier and perhaps less complicated times. Held in the McCauley Heritage Garden and featuring a fully restored 1880 farmhouse and general store, the festival celebrates life on a turn-of-the-century farm. 2019 marks the 16th annual Heritage Festival, CFBG's oldest annual event.

This year, the Garden is partnering with the Cumberland County North Carolina Cooperative Extension Office to produce the festival, which will be sponsored by Ed's Tire and Auto Service and Holt Oil Company.

In keeping with the period, according to Sheila Hanrick, director of marketing and events for CFBG, "Activities (will) include butter churning, pumpkin decorating, corn husk doll making, beeswax candle making, games, crafts and more. We will also have a scarecrow-building contest that attendees can enter for prizes. Some of the activities will require an additional fee. The Garden will be selling roasted sweet potatoes, along with all the trimmings like butter, cinnamon sugar, marshmallows and more.

"Vendors of handmade crafts and food items will also be a part of Heritage Festival. And we will have two food trucks participating: My Daddy's BBQ and Cedar Creek Fish Farm. James Creek Cider House will be on-site selling cider and hard cider."
On hand will also be a petting zoo from Carolina Fun Factory and ax-throwing by Axes and Armor. Keeping the crowd entertained throughout the event will be the bluegrass band, Cumberland County Line and the Young Warriors Praise Team Native American Dancers from Robeson County as well as cloggers from Kerry's Dance Beat in Eastover.

According to Hanrick, CFBG focuses on educating the community and helping people reconnect with nature. "All proceeds raised through our public events, including the Heritage Festival, go back into supporting our education programs," said Hanrick. "Our vision is to transform people's relationship with nature and help them connect with the natural world. We are a beautiful green space for people to leave stress behind and come reconnect."

To that end, CFBG hosts over 7,000 school children each year. It also sponsors a Therapeutic Horticulture program that serves people of all abilities in partnership with the U.S.O. of N.C, Wounded Warrior Program, CFV Cancer Center, Service Source, Vision Resource Center and several long-term care facilities in Cumberland County. CFBG also provides adult education classes and various horticultural workshops yearly.

"Heritage Festival is a fun event that provides an opportunity to step back in time," said Hanrick. "Come out and play a game of checkers on the front porch, sip some cider, enjoy some food and listen to great music."

Heritage Festival admission is free for members of CFBG. General admission for nonmembers is $5 for adults and $3 for children 6-12 with children five and under admitted free. Special note should be made of the 9 a.m. – 2 p.m. festival time as it differs from past years. For further information, visit the CFBG website at www.capefearbg.org.