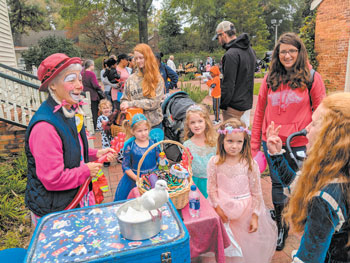 The Museum of the Cape Fear Historical Complex presents Hallowe'en Night Tours of the 1897 Poe House Wednesday, Oct. 23-Friday, Oct. 25, from 6-10 p.m.

"The Hallowe'en Revels Night Tours is our annual Halloween night program that we do with the Gilbert Theater," said Megan Maxwell, 1897 Poe House education coordinator of the Museum of the Cape Fear Historical Complex. "We have actors come in, and they portray members of the Poe Family and their friends."

Maxwell added this is not like a typical Poe House tour that you get during regular hours because you are seeing a short Halloween play. "We have a different theme every year, and this year's theme is 'Invoking the Spirit,' so we want people to join us for a spirited visit to the 1897 Poe House," said Maxwell.

"We are going to have a few ghosts in the house this year, so it will be a little bit different from what we have done in past years. Our event is family-friendly, so it won't be a spooky scary haunted house.

"All of our fall events are paid for by a grant from The Arts Council. Our foundation has to match that grant," said Maxwell. "This is part of that grant match, and it pays for programming that we do in the fall, which includes both of these Halloween events coming up."

Trick or Treat at the Poe House will be held Saturday, Oct. 26, from 11 a.m.-4 p.m.

"Trick or Treat is our fun event that we do for the little kids, and we encourage families and kids to come out in their costumes," said Maxwell. "We do have a costume contest that we run as part of that event. There is a $1 entry fee to enter the costume contest."

Creative, historical and handmade costumes are encouraged. Prizes will be awarded for first, second and third place. The event is free and open to the public.

The event also features the Sandbox Band from the Raleigh/Durham/Chapel Hill area. "They are a kid's band, and they play a lot of fun music for kids. They will play some Halloween songs as well," said Maxwell. "They will have three performances that day at 11:30 a.m., 12:30 p.m. and 1:30 p.m."

Maxwell added the event includes Joy the Clown, who will be doing balloon-twisting and magic tricks. Cumberland County Library will have Halloween stories, and there will be old-fashioned carnival games in the backyard. Concessions will be sold.

Tickets for the Hallowe'en Night Tours can be purchased online for $5 plus processing fees at www.museumofthecapefear.yapsody.com. Tickets can also be purchased at the museum.
For more information call 910-500-4240.