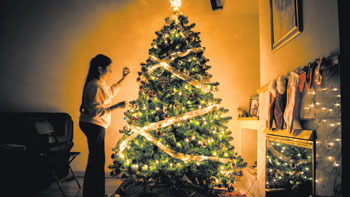 The Heritage Square Historical Society understands how cherished holiday experiences are and wants to be a part of the celebrated traditions of the season. The annual Tour of Homes provides an enchanted, self-guided tour of five homes in the historic Haymount area of Fayetteville. The tour begins at Heritage Square Historical Society's 222-year-old home, the Sandford House and Oval Ballroom, located at 255 Dick St. It takes place Dec. 8.

People will adorn the exterior of their homes with embellishments to enhance their charm and decorate the interior with ornamentations of the season. All of this prepares hearts for the joyous moments of the holidays.

These locations will welcome visitors with hot spiced cider and homemade cookies.

The Sanford House has been seasonally decorated by several local garden clubs as well. The Sandford House and Oval Ballroom are prepared to start participants on their journey of the Christmas season with simple, yet elegant touches of all things beautiful.

After enjoying time at Heritage Square, the map will direct attendees to four other exquisite, private homes. One of those homes belongs to Brian and Wendy Jones Carter at 1114 Longleaf Dr. Not only will they provide magnificent decorations, but Voices of the Heart, the former "Heart of Christmas" singers, will entertain guests with yuletide melodies while walking about the home.

The merry mood continues as spectators proceed to the remaining three locations. One of those homes is the residence of Marvin and Susan Butler Allan located at 517 Northview Ln., ready to provide visitors with awe-inspiring decorations.

Next you can drive to 2516 North Edgewater Dr., home to Virginia Oliver, to view breathtaking, joyous adornments throughout her home.

And finally, the Belmont House, located at 1104 Hay St., will wow guests with the allure of shimmering brilliance. These homes are decorated with the purpose of captivating each person in an extraordinary and memorable way.
All of this Christmas cheer happens Dec. 8, from 1-5:30 p.m. Tickets are $20 per person and can be purchased at three locations — Heritage Square Historical Society, The Pilgrim at Westwood Shopping Center and Leclair's General Store on Hay Street. All proceeds go to the restoration and preservation of the historic homes at Heritage Square.
Call 910-483-6009 for more information.