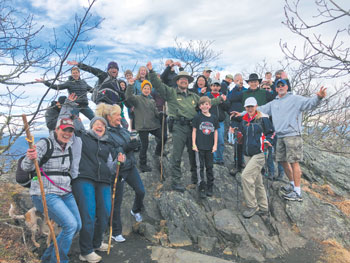 After a month of reaching for Christmas cookies, saucy meatballs and high-calorie cocktails at holiday parties, come January, tennis shoes and water bottle in hand may be a welcome change. First Day Hikes at North Carolina State Parks, held annually every Jan. 1 for the last 40 plus years, are the perfect occasion for this change of pace and pursuit.

The North Carolina State Park system continues the tradition of family adventure, exercise and reconnection with nature in 2020 with guided hikes at more than 40 sites. All state parks will be open on the holiday, with rangers leading educational hikes ranging from short strolls to extended excursions.

In North Carolina, this popular tradition began at Eno River State Park in Durham. Today, some 400 state parks across the country and also close to home in the Cape Fear region are in on the action.

Carver's Creek State Park. Visitors can choose from one of three hikes: a three-mile history hike at the Long Valley Access in Spring Lake where Long Valley Farm, the vacation home of the late James Stillman Rockefeller is the highlight; a one-mile children's hike or the 3.5-mile nature hike at the Sandhills Access located at 995 McCloskey Road in Fayetteville.

Raven Rock State Park. This Harnett County park features a two-hour, two-and-a-half-mile hike, where a descent down 100-plus steps to the flagship Raven Rock is optional.

Weymouth Woods State Park. This site in neighboring Moore County offers visitors the choice of three different one- to two-mile hikes scheduled at varying intervals throughout New Year's Day.

Singletary Lake State Park. This park in bordering Bladen County has a unique 4 p.m. Carolina Bay Sunset Hike on an easy one-mile loop. Carry your camera on the hike to capture a spectacular sunset.

Jones Lake State Park. Outdoor enthusiasts are invited to join a park ranger for a one-mile hike on the Cedar Loop Trail. Discussion on the hike will include the history of Jones Lake State Park and flora and fauna of the area.

According to the North Carolina Division of Parks and Recreation Public Information Officer Katie Hall, "Hiking in a state park is a great start to the new year by disconnecting and redirecting — taking a break from screen time that overloads us at work and school and redirecting our attention to the natural world around us, good people and fresh air."

Plus, visitors participating in the North Carolina State Parks 100-mile Challenge to walk, hike, paddle, cycle or otherwise explore 100 miles in the state parks can add First Day Hikes to their total mileage. New to the Challenge? Consider adding the Challenge to your resolution list.

First Day Hikes is a promotion of America's State Parks and the National Association of State Park Directors. You can put your best foot forward in 2020 with a state-park sponsored First Day Hike.

Each park has its unique offerings. See https://www.ncparks.gov/first-day-hikes for full details.