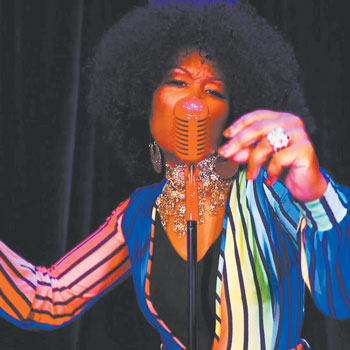 The world has changed a lot in the last six months. We've changed the way we shop, worship and celebrate. We've changed the way we greet each other, and when we are lucky enough to meet in person, that's changed, too — masks on and 6 feet apart, please. What hasn't changed, though is our desire to have fun. To connect. To be entertained. To interact. Also unchanged is the Arts Council of Fayetteville/Cumberland County's passion to bring art and entertainment to the community. The organization has reimagined ways to support artists while engaging residents. Gallery tours are virtual now. And a new program called Hay Street Live provides an interactive and entertaining alternative to passively binge-watching yet another series. The next Hay Street Live is set for Friday, May 15.
Remember going to a live performance and laughing and chatting with friends? Watching the mixologist show off their newest recipe? Connecting with the energy of a talented performer? Hay Street Live has remixed that experience. It's part talk show, part convo, part mixology lesson and 100% entertainment. And in this case, the audience is up close and personal with the host and the talent. Tune in to the Arts Council's Facebook page at 6 p.m. for the Facebook
Live event.
The flow of the evening takes the natural course of a night out — some chatting, then maybe some entertainment and a short conversation with the performer. Cutaway to the mixologist for some chit chat and a new recipe and demonstration, then back to the performer for another song, etc. Attendees participate throughout the event, commenting and using Facebook's interface to let the other people involved know how they feel about what is going on.
This week's host is Kia Anthony, founder and president of Circa 1865.
R&B singer Leme Nolan headlines the musical portion of the event with a combination of original and cover songs. Her original piece is "Love with a Ring Attached." She will also perform pieces by Erykah Badu, Mary J. Blige and SWV.
Nolan said one of her favorite things about performing is the connection she creates with the audience. "With music, it is all about connecting and being real. It represents who I am, and it comes naturally to me. I am really thankful for this opportunity. We are going to have a good time."
Nolan also plans to relaunch her dance challenge at Hay Street Live.
Jaquetta "Lady J" Gooden is the mixologist for the week. She's no stranger to the show, having been the host as well as the mixologist in the past.
This week, she'll be making her take on a blood orange margarita and another tequila-inspired cocktail.
In addition to being fun, the program is important. "Hay Street Live is a virtual show that gives local artists a platform to showcase their talents," said Gooden. " … I believe what makes Hay Street Live stand apart from other streaming events (is that) it is providing a sense of going out without leaving your home. It's like attending a concert from your home — and you get to learn how to make some fun cocktails along the way."
Hay Street Live lasts from 6-7 p.m. and is set for every Friday through June 12. To find out more about the Arts Council and Hay Street Live, visit www.theartscouncil.com. Find out more about Nolan at https://www.lemenolan.com/ or check out her music on Youtube.