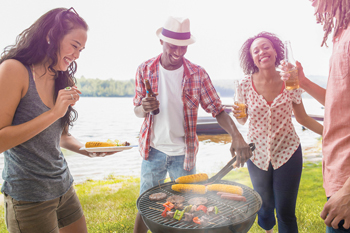 The Fourth of July in the Sandhills usually involves big crowds, free concerts, fireworks and more. This year, public safety concerns over COVID-19 have changed that. The sounds of the symphony orchestra won't resound in Festival Park. Instead of Fort Bragg's Parade Field filled with first-rate music and a salute to the flags from each state, the field will be empty. Fireworks may still be on the schedule, though. Learn more about the plans for Fort Bragg's Independence Day celebration at
https://bragg.armymwr.com/calendar/event/4th-july-celebration/3832248/23521.
Hope Mills Municipal Park won't host its annual fireworks display this year until Ole Mill Days in October. In lieu of the Fourth of July event, the town is celebrating Independence Day with a Porch Parade from June 30-July 5. Residents and businesses are invited to decorate their porches and storefronts with their favorite red, white and blue décor. To sign up to be part of the Porch Parade, visit
https://www.townofhopemills.com/349/July-4th-Celebration.
Celebrations will likely be smaller — more along the lines of intimate backyard barbeques. Perhaps as you're firing up the grill, consider our nation's beginnings. And try a tasty new burger recipe as well.
The history of America's Independence Day

Few summertime holidays elicit as much excitement as the Fourth of July, also known as Independence Day in the United States. Each year, family, friends and revelers anticipate the arrival of the holiday so they can host barbecues, enjoy the sun, listen to their favorite summertime tunes and commemorate the freedoms afforded by the monumental events that led to the holiday's establishment.

Independence Day became a federal holiday in 1941, but July 4th has stood as the birth of American independence for much longer. July 4th marks a pivotal moment in the American Revolution. According to PBS, the colonies were forced to pay taxes to England's King George III despite having no representation in the British Parliament. "Taxation without representation" became a battle cry and was one of several grievances colonists had with Great Britain.

Conflict between the colonies had been going on for at least a year before the colonies convened a Continental Congress in Philadelphia in June of 1776, says Military.com. On July 2, 1776, the Continental Congress voted in favor of independence from England. Two days later, on July 4, 1776, delegates from the 13 colonies adopted the Declaration of Independence.

The Declaration of Independence is an historic document drafted by Thomas Jefferson. Jefferson was considered the strongest and most eloquent writer of the declaration writing committee charged with putting the colonies' sentiments into words. Richard Henry Lee of Virginia was one of the first people to present a resolution for American independence, and his commentary was the impetus for the formal Declaration of Independence. A total of 86 changes were made to Jefferson's original draft until the final version was adopted. The signing of the document helped to solidify independence, and eventually lead to the formation of the United States of America.

A total of 56 delegates signed the document. Although John Hancock's signature is the largest, it did not hold more weight than the other signatures. Rather, rumor has it, Hancock signed it so large so that the "fat, old King could read it without his spectacles." However, the National Archives said it was also customary that, since Hancock was the president of the Continental Congress, he be the first person to sign the document centered below the text.

The Pennsylvania Evening Post was the first newspaper to print the Declaration of Independence on July 6, 1776. The first public readings of the Declaration were held in Philadelphia's Independence Square on July 8, 1776.


Take your Fourth of July burgers up a notch

The year 2020 is one few people will soon forget. Life changed dramatically and perhaps forever in 2020, when the outbreak of the novel coronavirus COVID-19 forced billions of people across the globe to make sacrifices to prevent the spread of the potentially deadly virus.

The sacrifices made in response to COVID-19 are perhaps most noticeable on holidays, when people accustomed to gathering with family and friends were unable to do so, or only able to do so on limited terms.

Despite those restrictions, people continued to celebrate on holidays like Easter and Memorial Day, and the Fourth of July does not figure to be any different. Fourth of July celebrations often take place in the backyard by the grill, and this year marks a perfect opportunity to expand your culinary repertoire. This recipe for "Best Burger With Blue Cheese Butter," courtesy of Eric Treuille and Birgit Erath's "Grilling" (DK Publishing) offers a new take on a backyard barbecue staple.

Best Burger With Blue Cheese Butter
Serves 4
1 pound ground chuck steak
2 teaspoons salt
1 teaspoon black pepper
4 1-inch slices blue cheese butter (see below)
4 sesame hamburger buns, halved

Combine ground steak with salt and pepper. Divide into four equal-sized pieces and gently shape into four burgers about 1-inch-thick. Grill burgers and warm buns according to instructions below. Top burgers with butter and serve hot in sesame buns.

Outdoor cooking: Grill over hot coals for three minutes per side for rare, four minutes per side for medium-rare, or five minutes per side for well done. Place buns cut-side down on grill until warm and lightly golden, 1 minute.

Indoor cooking: Preheat a ridged cast-iron grill pan over high heat. Cook for three minutes per side for rare, four minutes per side for medium-rare, or five minutes per side for well done. Place buns cut-side down on grill pan until warm lightly golden, 1 minute.

Blue-Cheese Butter
Makes 15 servings
16 tablespoons unsalted butter, softened
4 ounces (1 cup crumbled) blue cheese
2 teaspoons black pepper

Place ingredients in a food processor or blender and pulse until well blended. Wrap in foil. Place in the freezer until hard, about 45 minutes.

To serve, roll back foil and cut into 1-inch slices. When slicing from frozen, warm the knife under hot water first. After slicing, always tightly rewrap the unused flavored butter roll in the foil before returning to the refrigerator or freezer.

Best Burger Variations

Herbed Burger: Add 2 teaspoons fresh thyme leaves or 1 teaspoon dried thyme, 1 crushed garlic clove and 1 tablespoon finely chopped onion to the ground steak.

Spicy Burger: Add 1-2 teaspoon tabasco, 1 tablespoon Worcestershire sauce and 1 teaspoon Dijon mustard to the ground steak.

Think ahead: Shape burgers up to one day in advance. Cover with plastic wrap and refrigerate.

Cook's Note: Overhandling the meat when shaping will result in a tough, dry burger. To guarantee a juicy burger, handle the meat as little as possible.