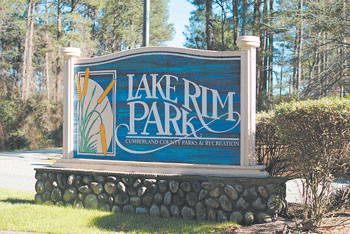 Fayetteville-Cumberland Parks and Recreation offers a variety of locations around town to enjoy the outdoors. Lake Rim Park on Tar Kiln Drive offers an assortment of amenities including picnic areas, horseshoe pits, walking trails, tennis courts, sand volleyball courts, athletic fields, natural areas and children's playgrounds.
In addition to park facilities, a number of tours and activities are offered in November and December.
Tar Kiln Tour — Nov. 10, 2 to 4 p.m., free, ages 10+
Participants can take a behind-the-scenes look at a historical treasure located at Lake Rim Park. Join a park ranger to view the remnants of the Weed's Lightwood Plant, a century-old turpentine factory. Learn about the importance of the naval stores industry in North Carolina and find out why we are known as "The Tar Heel State." Call to register, space is limited.
Kayak Tours — Nov. 14, 9:30 to 11 a.m., $15, $5 w/own boat, adults and ages 10+
Lake tours are perfect for those trying kayaking for the first time and seasoned paddlers looking to relax on the water. All the equipment and basic instruction for beginners will be provided. We recommend beginners participate in a lake tour before going on a kayak trip. Tours are dependent on the weather. Call to register, space is limited. Participants under 16 must be accompanied by a participating adult.
Color Hunt — Nov. 18, 3:30 to 4:30 p.m., free, all ages
Conduct experiments to observe a rainbow of colors, discover why colors change in the fall and then search the park for an array of colors on a scavenger hunt. Call to register, space is limited.
Archery Clinic — Dec. 5, noon to 3 p.m., $5, Ages 8+
This class is designed to introduce the sport of archery to beginners. Participants will use compound bows as they learn the basics of archery to include safety, proper stance and follow through. Adults are welcome too. Registration begins Nov. 23, space is limited.
All facilities are open to the public on a first come, first serve basis unless they are reserved. Contact the park office at 910-433-1018 to reserve facilities or register for events. Office hours are Mon. — Fri. 8 a.m. to 5 p.m.
Visit https://www.fcpr.us/parks-trails/parks/lake-rim-park for more information.