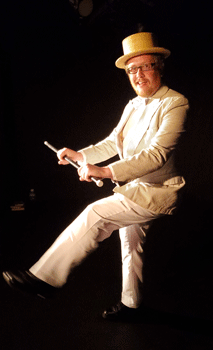 The Gilbert Theater has been around since 1994 when it was started in the basement of Lynn Pryer's house, and for the last 26 years, it has produced many wonderful theatrical performances on the main-stage season. "FayetteVAUDEville" was an idea that the board of the theater came up with to produce something new and fresh to end 2020. Last October, the theater put on its first-ever performance of "FayetteVAUDEville" starring Jermey Ruis for his Dark Magic. If you missed that production, reserve your tickets now because "FayetteVAUDEville" is returning Feb. 26 and 27.
"FayetteVAUDEville" is not just a typical theatrical product that one is used to, this performance will showcase some local artists and their talents. This show will star singers Karen Morgan Williams and Tim Zimmerman; belly dancer Fahada (teaches locally in Fayetteville); and comedian Vadrin Colvin-King.
"The 'FayetteVAUDEville' is a show intended to pull talent from our local community and string the talents together for a fun adults night," said Brittany Conlin, business manager of the Gilbert.
From singing to belly dancing, the Gilbert Theater will present "FayetteVAUDEville" to mature audiences on the nights of Feb. 26 and 27 at 8 p.m. This show is not something you will want to miss. The show is supported by a mini-grant from the Arts Council of Fayetteville/ Cumberland County.
This show will have a max capacity of 25 people per show and tickets are available for purchase at the Gilbert Theater website. Season holders will have to purchase tickets for this show. The theater is very adamant about protecting everyone so they will be doing temperature checks at the door and masks will be required. The theater has already planned the next two "FayetteVAUDEville" performances to come in April and May of 2021.
The "FayetteVAUDEville" auditions had such a great turn out of adults and children that the Gilbert theater is moving forward with a kid-friendly version of the show entitled "The Greatest Showcase: A Youth Variety Show." This show will be brought to the public on March 5th and 6th at 2 and 5 p.m. by the Gilbert Theater and the Kids with Hearts for Arts. The tickets will be $12.
The Gilbert theater has a wide variety of shows coming to center stage this season which began with the murder suspense "Ropes." The next two shows to follow are "Oedipus Rex" and "Urine Town: the Musical."
The Theater also offers educational opportunities, with the most recent being a virtual class taught by Montgomery Sutton.
For more information on shows, auditions, education and ticket sales visit the website at gilberttheater.com.