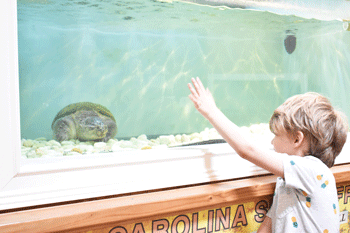 Fayetteville Cumberland County Parks & Recreation offers a number of activities to get out and enjoy nature. Clark Park & Nature Center is located at 631 Sherman Drive. For more information call 910-433-1579.
Bug Safari at StoryWalk® Clark Park
Explore reading along a stretch of trail near the playground. Stands tell the story of "Bug Safari" by Bob Barner. Funded by the Women's Giving Circle of Cumberland County, a fund of Cumberland Community Foundation, Inc. Available Monday through Sunday from 8 a.m. to sunset. Free and suitable for ages 3-6.
Small Wonders From the Mountains to the Sea: A Diorama of Miniatures by Wildlife Artist Joe Morgan
Find all the tiny critters nestled in this work of art and take home a prize. Available during Center Hours: Available Monday through Saturday 10 a.m.-4 p.m. Free and suitable for all ages.
Animal Feedings
Alligators chomping, snakes swallowing, and turtles snapping, come see what is for dinner at the nature center. Call to register. Wednesdays on July 21, 28 and Aug. 4, 11 from 3-4 p.m. Free and suitable for all ages.
Marvels of Moths
While butterflies may be better known, after the sun goes down the night belongs to their relatives, the moths. There are far more species of moths than butterflies and they live fascinating lives. Learn about the importance of moths in the environment, how they survive, and about some of the many different kinds that call North Carolina home. Part of National Moth Week and Moth Night. Call to register. Saturday, July 24 from 7-8 p.m. Free and suitable for all ages.
Moth Night!
Clark Park's woods often yield giant silkworm moths like the Luna and Polyphemus. Come hear about how moths differ from butterflies, how to attract and trap moths for identification and study, and see what we can catch at Clark on this night. Moth Night is part of National Moth Week, a celebration of moth diversity, beauty, life cycles and habitats. Call to register. Saturday, July 24 from 8-10 p.m. Free and suitable for all ages.
Homeschool Discovery Series: Reptiles and Amphibians
These free programs are designed with homeschoolers in mind to help supplement their curriculum. Call to register. On Aug. 5 from 10-11:30 a.m. discover what makes reptiles different from amphibians through this hands-on experience.
For more information on what programs and events are available at parks throughout Fayetteville and Cumberland County visit www.fcpr.us/