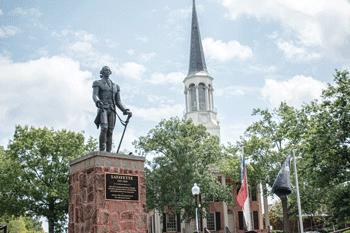 Each September, The Lafayette Society and the City of Fayetteville celebrate the birthday of the Marquis de Lafayette, the city's namesake. This year, focus will be on the popular French music concert and a ribbon-cutting and dedication of the new Lafayette Plaza East.
The Lafayette Society's Hank Parfitt said the annual celebration promotes the significance of Lafayette's contributions to Fayetteville while educating and entertaining the public through music and the arts. The events are made possible mostly by the efforts of volunteers.
"I am proud of our board, as well as our general membership, for their time, energy and enduring support of our mission as a civic as well as an historical organization," Parfitt said.
On Sept. 9 at 7:30 p.m., Dr. Gail Morfesis and Friends will present "L'ensemble de la Famille: Musical Families and their Historical Significance" at Hay Street United Methodist Church in downtown Fayetteville.
Morfesis has been organizing and performing in concerts as part of Lafayette celebrations since 2014. She organized this year's concert with a grant from the Arts Council of Fayetteville/Cumberland County and the North Carolina Arts Council awarded to help promote music in the community.
"The concert is basically performed in French," she said, "we try to educate the audience about Lafayette and French musical traditions." There will be translations and notes in the program.
This year, Morfesis wanted to recall an era before electronic devices to highlight the tradition of families entertaining themselves with music — singing and playing instruments and "making music in
their homes."
"I want to point out that during COVID, because families were at home together, we saw a resurgence of a tradition — families creating and entertaining themselves with music" Morfesis said.
The concert will showcase the talents of professional musical artists from eastern North Carolina and will include married couples, a father-daughter duo, and two groups who are "just like family."
This lively, fast-paced concert will appeal to a broad audience, Morfesis said. Tickets are $15 for adults and $10 for students and can be purchased at City Center Gallery & Books on Hay Street or online at www.lafayettesociety.org/events. CDC precautions will be observed with safe distancing in the sanctuary but attendees are asked to wear masks.
On Sept. 12 at 2 p.m., the Lafayette Society will be joined by the Mayor and members of the City Council and County Board of Commissioners to dedicate the new Lafayette Plaza East. The existing brick plaza and stage with seating walls on the west side of the Lafayette statue was funded by the Society and dedicated in 2013.
This past year, the Society's Park and Statue Committee worked with the City to develop a performing stage on the east side of the statue with new landscaping. This created an outdoor amphitheater downtown suitable for concerts and other performances. It also made the entire park more attractive as a place for recreation and gathering.
The Camp Flintlock Fife and Drum will be there to help Mayor Mitch Colvin, Commissioner Glenn Adams, and District 2 Councilwoman Shakeyla Ingram with the ribbon cutting. Lafayette himself will also make an appearance, thanks to re-enactor Stanley Seay.
Pictured above: City officials will help The Lafayette Society dedicate the new Lafayette Plaza East on Sept. 12. (Photo by Dylan Hooker). The music concert will be Sept. 9 at Hay Street United Methodist Church.