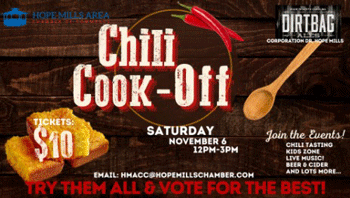 Fayetteville's unique connection to the military and veterans is never more evident than during Heroes Homecoming. Encompassing a week of events focused on service members, veterans and families, Heroes Homecoming has been a staple in America's Hometown since 2011. This year is no exception. The event kicks off with the annual Fayetteville Veterans Day Parade, see page 15 for the full story.
Once families have celebrated the heroes on Hay Street, there are several additional activities to enjoy throughout the area.
For a few of these additional events folks can head out to Dirtbag Ales Brewing and Taproom.
Dirtbag Ales is hosting a Kickball Tournament and registrations is $25, all of which will go to Mission 22.
Mission 22 is a national community seeking to support services members, both active and veteran and their families, in dealing with mental health issues, raising awareness and helping to remember and honor service members and veterans.
It is a cause close to our hearts, explained Shannon Loper, operations manager, Dirtbag Ales Brewery and Taproom. The brewery will also serve their Heroes Homecoming Pilsner.
Dirtbag will donate a dollar of every pint of Heroes Homecoming Pilsner sold to Mission 22.
In addition to the Kickball Tournament, patrons can purchase tickets to the Hope Mills annual Chili Cook-Off. The event has been running for approximately a decade but is celebrating its third year at Dirtbag Ales.
Previously held in October, the event is now in November due to indecisive North Carolina weather.
"Depending on how fickle the weather can be, nobody wants to eat a bowl of chili when it's 80 degrees outside," president of the Hope Mills Chamber of Commerce, Casey Ferris explained.The cook-off is one of the chamber's biggest fundraisers, and this year they will be donating a portion of their proceed to the Veteran's Farm of North Carolina.
VFNC's mission is to educate service members and veterans of all ages and eras on all aspects of agriculture.
"VFCN allows veterans to become heroes in life for a second time by helping them transition into becoming the farmers for tomorrow," according to the VFCN website.
Participation in the cook-off will cost contestants $25 and an 8-quart crockpot of chili.
This year the chamber is encouraging festive and fun competition.
"We want to make it a fun event," Ferris said.
Chili consumers can purchase a chili flight, which will provide them with a selection of chili-filled shot glasses and a ticket to vote on their favorite.
Taste-testers can buy tickets for $10 online or at the venue on the day of the event.
Ferris said quite a few fun participants have already jumped in to compete. Competitors include, but are not limited to, the Hope Mills Fire Department, which will be serving up their "5 Alarm" chili, Fayetteville Technical Community College's Culinary Arts, Napkins and 910Comedy, who will likely be heckling and roasting their competition.
There are cash prizes for first, second and third place, and any additional chili left after votes are counted and tallied at 2 p.m. will be sold for $5 a bowl.
These events honor, celebrate, remember and give back to the military and veteran community and programs that support them.
"We like the opportunity to give back and support our veterans," Ferris said. To participate in the Kickball Tournament, contact Dirtbag Ales at 910-426-2537.
To sign up to compete in ($25) or eat at ($10) the Hope Mills Chili Cook-Off visit hopemillschamber.com/chili-cookoff-2021.
Additional information and competition rules and regulations are available on the Hope Mills Chamber of Commerce website.