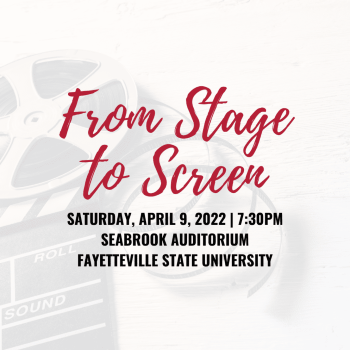 The Fayetteville Symphony Orchestra will be closing out their 2021-2022 season with one last concert at Seabrook Auditorium at Fayetteville State University in a performance that will be sure to bring in film lovers of all ages.
The concert, "From Stage to Screen," will feature composers that began their careers writing for the concert stage but then shifted to writing for the silver screen. Some of these iconic pieces include Nino Rota's "Waltz and Love Theme" from "The Godfather" and Max Steiner's theme from the 1959 film "A Summer Place."
"It'll be a good show. We're really looking forward to finishing out the season strong, and we hope to see people there," Anna Meyer, community engagement manager for the FSO, told Up & Coming Weekly. "It will be the last opportunity to see us perform a large concert for a few months."
Looking at the 2021-2022 season, Meyer says that the season was very successful, especially in the latter half of the season. The "Too Hot To Handel" performance sold out, and the "Bohemian Rhapsody" concert had a strong audience turnout.
However, the FSO isn't taking a break during the summer. They will continue to perform at Symphony on Tap events scheduled throughout June. There will also be a planned community concert at Festival Park for the city's Fourth of July Celebration.
Summer camps will also be on offer for students of all ages. There will be three camps for elementary, middle school and high school-aged students. Registration for the camps is open and more information can be found at fayettevillesymphony.org.
The next concert season is currently being planned out and will start in September.
"We are currently planning our 2022-2023 season and hope to announce it within the next couple of months. You can expect to see a variety of chamber concerts, exciting programming and collaborations, and due to popular demand, a John Williams program," Meyer said.
From Stage to Screen will occur on April 9 at 7:30 p.m. Before the concert starts, the musicians will talk about the music they will be performing and explain the background of the composers. The pre-concert talk will begin at 6:40 p.m. The total concert run-time is an hour and 20 minutes.
A shuttle service will be available from Highland Presbyterian Church, 111 Highland Ave, to Seabrook Auditorium. Although reservations are not required, they are appreciated. To make a reservation for the shuttle bus, please call 910-433-4690. The shuttle will depart at 6:20 p.m.
Tickets may be purchased online, over the phone at 910-433-4690, or in person.
Tickets range from $5 to $25, and anyone five and younger can attend for free.