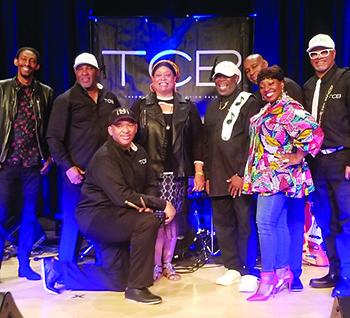 The Fayetteville Dogwood Festival presents Fayetteville After Five Summer Concert Series featuring Rivermist and The TCB Band Friday, July 15 at 6 p.m. at downtown's Festival Park.
"We are in the middle of our Fayetteville After Five Summer Concert Series that goes from June to August on the second Friday of the month," said Sarahgrace Snipes, executive director of The Fayetteville Dogwood Festival. "The purpose of the event is for the Fayetteville Dogwood Festival to stay involved in the community, and many people think that we only do the Spring Festival, but we like to be in the community annually and year-round."
Rivermist is a local hometown band comprised of Greg Adair, manager, drummer and vocalist; Tony Harrison, bass player; Cliff Bender, guitarist; Allen Pier, songwriter, keyboards and lead vocalist; and Rick Starling, percussion, vocals and keyboards.
"We have been really busy lately, and we have a couple of songs on the chart right now," said Adair. "One of the songs, "Pucker Up," is number one on one of the big charts, and we are actually up for a Cammy Award this year which is what the Carolina Beach Association calls their awards."
He added, "We are not even a beach band, but we are getting a lot more gigs, and there is more money around it when you have songs on the charts."
The band has a 100-song catalog that they play that features staple songs from a variety of bands.
"We are excited about Fayetteville After Five, and we appreciate their faith in us by giving a local band the opportunity to perform," said Adair. "We are going to do everything that we can to pulverize that place, and we are going to give it to them one after another for a great show."
The TCB Band, which stands for Throwback Collaboration Band, is a local 70s and 80s Soul R & B Band. The members are Richard Bradford, drummer; Michael Counts, bass guitar player, vocals and lead musician on stage; Vanessia Holland, female lead singer; Duce Thomas, guitarist and background singer; and A. D. Thomas, lead singer and guitarist.
"We play a lot of old-school Motown songs and some classic rock," said Thomas, lead singer and guitarist of the TCB Band.
"We have been working alongside the Rivermist Band with Greg Adair, and we are grateful to them for the opportunities they have given us," said Thomas. "We have recently signed up to become a part of the North Carolina Festival Association, and we would like to lend our services to every city in North Carolina that has festivals."
Future plans for the band entail working on an upcoming album slated to be released in January 2023.
"At the Fayetteville After Five concert, listeners should expect an exciting and fun family show that involves a lot of dance music, a lot of hype, and we love to have audience participation," said Thomas.
"Our performance is very entertaining and full of fun."
The concert is free and open to the public. For more information, visit www.thedogwoodfestival.com or call 910-323-1934.