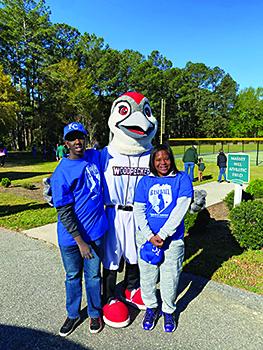 Baseball fans know the roar of the crowds, the smell of stadium food and the high-energy environment of a baseball game can be an amazing experience.
But for some fans, those same components make attending games in person difficult to enjoy. With this in mind, the Fayetteville Woodpeckers will hold its first-ever "Abilities Awareness Day" on Aug. 14 at Segra Stadium.
Embracing an attitude of inclusivity, the Woodpeckers is partnering with ServiceSource, Miller's Crew, Bravery Kids Gym and the Vision Resource Center to celebrate all abilities and sensitivities with a day of fun for the whole family.
The event will begin at 2:05 p.m., during the Woodpeckers vs. the Down East Wood Ducks game, and will feature a number of activities, stations and opportunities for everyone and everybody on the ability spectrum.
Fans will be able to enjoy sensory stations built by Bravery Gym along the concourse during the game. They will also have access to a sensory-friendly space if they become overwhelmed or want to take a break from the environment without having to leave. Guests can also check out sensory bags, which are available at guest services during every game and contain headphones, fidget toys and cue cards.
Fayetteville Parks and Recreation Buddy Sports baseball team will stand with the Woodpeckers during the national anthem and Special Olympics Cumberland County athletes will have the opportunity to participate in a free baseball skills clinic before the game gets underway.
During the game, Houston Astros autographed baseballs will be auctioned off to benefit ServiceSource, Miller's Crew, Bravery Kids Gym and the Vision Resource Center.
The Millers Crew food truck, which acts as a training environment for adolescents and adults with developmental challenges, will also be on-site.
The Abilities Awareness Day is one of many events organized this year that focuses on serving, supporting or celebrating the community.
The organization held a benefit concert this past March to help Cumberland County families with rent and utilities and will host its first school supply drive on Aug. 5.

Up & Coming Weekly spoke to Woodpeckers' Media and Community Relations Manager, Kristen Nett, about the organization's push toward a more community-forward focus and the importance of events like this one.
"We care about providing an inclusive environment for everybody — just because we have screaming fans doesn't mean we can't also make a space for people sensitive to that. We want to support our Special Olympics and our Sport's Buddies here in town. The Woodpeckers have a passion for helping others, and we want to use our platform to benefit the community; it's our responsibility to do what we can to support it."
Visit http://fayettevillewoodpeckers.com/tickets or the Truist Box Office at Segra Stadium to purchase tickets.
To learn more about Ability Awareness Day, visit www.milb.com/fayetteville.
Segra Stadium is located at 460 Hay St. in downtown Fayetteville.