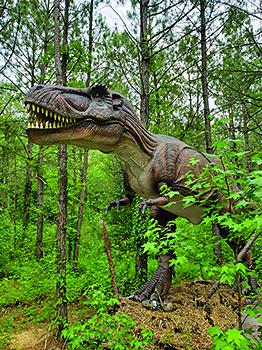 As summer events trickle from the family calendar and Cumberland County trudges toward another school year, Sweet Valley Ranch has just the thing to send families out in style.
Just a "hop, skip and a jump from city limits," Sweet Valley Ranch is the place to be Saturday, Aug. 20, for their Music at the Farm Concert Series. The venue's second concert this summer season will feature Tim Hair with Indian Outlaw, followed by Jim Quick and the Coastline Band.
The sprawling 300-acre farm, owned and operated by Fred and Anita Surgeon, is already home to a number of fascinating attractions such as Dinosaur World, an immersive animatronic dinosaur sight-seeing adventure, and a premiere destination for agro-tourism enthusiasts. Inspired by the long days of summer, the Surgeons felt the farm with its beautiful views and peaceful scenery would be the perfect background for some good music.
The event's organizer, local musician Greg Adair, feels the farm's rustic charm and wealth of activities make it an ideal place for families to come together and have a little fun before the summer ends. In June, the series' first concert featured local favorite Rivermist and 80s cover band Kids in America. Oct. 15 will mark the concert series' final show with performances by Hell is Here and Mostley Crue.
Guests are encouraged to bring their blankets to lay out or their camping chairs to set up during the concert. No outside food or drink is permitted, but a food and beverage truck will be on-site to sell refreshments. Adult guests can grab a drink from the beer garden sponsored by Healy Wholesale, and kids can check out the bounce houses nearby.
"It's a really cool venue and a great place to walk around," Adair said. "It's a special place to take the whole family and see a show. The kids can get some food, adults can get some refreshments — there's just so much to do, and people should expect some great music."
Dinosaur World, a popular attraction at the ranch, will be open for its final weekend of the season on Aug. 20 and 21. As part of a farewell bundle, guests can purchase a Dinosaur World Supreme Concert package which includes general admission to the theme park and the concert. Individual general admission tickets cost $15.
Tim Hair & Indian Outlaw will take the stage at 7 p.m., and the band's lead singer, Tim Hair, is excited to bring the band's energy to Sweet Valley Ranch. Hair, a former Vegas entertainer and Tim McGraw impersonator, has been in the entertainment business for over 20 years and confessed that it never gets old.
The seven-piece country cover band primarily performs a large selection of Tim McGraw's greatest hits but likes to throw in a wild card or two during their high-energy performance. For Hair, bringing joy to people through his music is what it's all about.
"I just love making people happy and making sure people have a good time. As long as I can make people smile, then that's good for me," he said.
At 8:15 p.m., Carolina Music Awards Entertainer of the Year Jim Quick and his band Coastline will rock the stage with the soulful blues and smooth rhythm and blues sound they've perfected over the past 25 years. Performing over 250 shows across the southeast a year, Jim Quick is a seasoned performer with a deep knowledge of his craft and a love of performing. His quirky persona and comedic flair are sure to be a treat for the Sweet Valley Ranch audience.
The concert series is one event in a summer that's been packed with things to do. From the full return of Fay After 5, a concert series at Gates Four Golf & Country Club, and one of the largest Juneteenth celebrations in the country, it seems that Cumberland County is ready to celebrate the good times once again. After two years of COVID restrictions, cancellations and halted plans, Adair sees the series and similar events in the area as being much-needed and long overdue.
"I think [events like this are] super important," Adair said candidly. "People need to get back out and live — 2020 taught us that. People should take advantage of these events when they're in the area. There's less and less to do as the weather changes, so now's the time to get out there and have fun."
Fun is clearly a top priority for Fred and Anita Surgeon, when it comes to operations at Sweet Valley Ranch, "where nature meets adventure." Dedicated to bringing a holistic agricultural experience to the people of Cumberland County, the farm serves several functions, from production to entertainment.
In addition to Dinosaur World, the ranch hosts several seasonal attractions throughout the year. Those visiting during the spooky season can explore Backwoods Terror Ranch and its three horrifying attractions. Visitors can drive through the farm during the holiday season and experience the magic of over a million twinkling lights, holiday music and exotic livestock.
The farm also features over 350 animals representing five continents, Go-Karts, ATV trails, fishing ponds, and enough inflatables to make any kid feel right at home. Sweet Valley Ranch also produces pecans and other items for sale. With every aspect of the ranch curated to create maximum enjoyment for its guests, Sweet Valley Ranch more than lives up to its promise to "promote freedom of spirit, personal growth, appreciation for family, and giving back to the community."
The picturesque ranch strives to be a place of peace, replenishment and rejuvenation for all who enter. The Sweet Valley Ranch Music at the Farm event is sure to be great fun for the whole family with good intentions paired with great local music, food, beer and dinosaurs.
Sweet Valley Ranch is located at 2990 Sunnyside School Road in the Cedar Creek area of Fayetteville.
To purchase tickets, visit, https://www.etix.com/ticket/e/1025578.