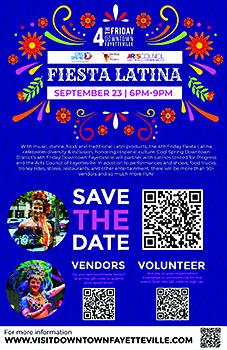 Latinos United for Progress proudly announces Fayetteville's first Fiesta Latina. The Latin community has participated in many heritage events, such as the International Folk Festival, but this is the first time the Latin community will get to showcase their heritage and culture as a stand-alone event.
Latinos United for Progress welcomes all to attend and participate in this heritage celebration, a family- friendly event, on Sept. 23 from 6 to 9 p.m. Guests are welcome to don Latin attire and colors representing different countries.
As a family event, there will be 3 hours of shows, including live Latin singing, drum circles, performance entertainment and cultural dancing. In downtown Fayetteville, there will be a stage in front of the Arts Council building, and street dancing around the Market House featuring entertainment simultaneously. Even the downtown trolley will be decorated in the spirt of Fiesta Latina and will host entertainment.
With the celebration of Latin heritage, there will be over 50 vendors showcased at Fiesta Latina. There will be a variety of food trucks and Latin restaurants boasting with the flavors of different countries. From Caribbean jerk chicken to Mexican empanadas and Brazilian saffron rice, the Latin community is eager to share their cuisine with diverse populations. Latin communities will be selling a variety traditional product, including folk crafts, jewelry, and native costum-
ing. From Colombia, there will be a vendor with decorations and leather goods.
Fiesta Latina is being presented by Cool Spring Downtown District's 4th Friday and is partnered with Latinos United for Progress and the Arts Council of Fayetteville. Local nonprofits will also be represented to share awareness and celebrate their opportunities for Latin communities. There is still room for more vendors. Thanks to Cool Springs Downtown Alliance and in collaboration with Latinos United for Progress, nonprofit organizations are welcome
to participate at no cost.
As a charitable nonprofit organization, Latinos United for Progress stands as a liaison for the Spanish speaking community of Cumberland County and surrounding areas. Their mission is to advocate for the progress and well-being of the Latino community through programs and projects that promote education, leadership, development, and cooperation. Their services include legal aid and security for Latinos. They also have services and events dedicated to Latina women as well as youth programs.
This is an all-volunteer organization. Claudia Zamora is the current President of Latinos United for Progress, and she is eager to share these resources with the community.
"Fiesta Latina will celebrate diversity and inclusion through honoring Hispanic culture," Zamora said.
Located in the downtown district of Fayetteville, Fiesta Latina will be held on Friday, Sept. 23 from 6 to 9 p.m. during the 4th Friday celebration.
For more information, visit latinosunitedforprogress.org or follow on Facebook @latinosufp.
If you would like to volunteer, per- form on stage, or sign up as a vendor please fill out the form at https://visitdowntownfayetteville.com/events/7672/ or call 910-223-1089.