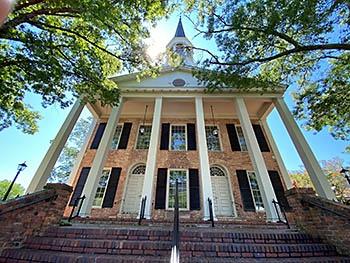 The American Guild of Organists, in conjunction with First Presbyterian Church, will be sponsoring the Salute to Veterans concert for all who serve, Nov. 11 at 7 p.m. in Fayetteville.
The concert is going to be patriotic music played on the organ, with choirs, trumpets, piano, handbells and percussion, said Marcia Mervin, First Presbyterian Church musical director.
"It's going to be a very festive occasion, honoring our veterans and first responders," Mervin added. "We welcome [veterans and first responders] to attend in uniform [because at] some point, they will be recognized during the program."
"God Bless America," "Fanfare for the Common Man," "Mine Eyes Have Seen the Glory," "America the Beautiful," "The Star Spangled Banner," "Salute to America," "Prelude to Thaxted (I Vow to Thee My Country)," "Prayer for Those Who Serve" and "Star and Stripes Forever" will be performed during the approximately one hour program by local members of the AGO.
Possessing multiple tiers of keyboards, buttons and twice as many foot pedals as a piano, organs are not easy to play. The Salute to Veterans is meant to display the art form of the organ in a meaningful setting. In fact, some music will be performed by two organists playing the same organ.
"The organ is the oldest keyboard instrument of all instruments," Mervin said. "It was invented in 300 B.C., it's had an extremely long life [and] it's gone through various innovations and renovations."
First Presbyterian Church was built in 1832 on the location of another church that burnt down. The church was added to the National Register of Historic Places in 1976.
"We thought that Veterans Day would be a good opportunity for an event because we don't typically get many people coming down for music during that holiday. We wanted to change that," said Connor Larson, senior organ student at Campbell University. "Being so close to Fort Bragg, we thought it would be especially appropriate to pull together some resources and put this thing on," Larson added.
"This church is the oldest church in Fayetteville," Mervin said. "We are over by the Market House, about a block off of Person Street, at the intersection of Ann and Bow Streets ... across the street from Wells Fargo and right on Cross Creek ... [and] Lafayette Park."
First Presbyterian Church worships weekly at 9 a.m., in the chapel, and 11 a.m., in the sanctuary. If you can't make it to the sanctuary in person, First Presbyterian Church live streams sanctuary services on its website and Facebook, as well as archiving them for later viewing.
The American Guild of Organists is a national nonprofit organization promoting the art form, heritage and continuance of the organ.
According to the AGO, the organization was founded in 1896. Presently, the guild serves roughly 275 chapters and 12,000 members in the United States and around the world.
To learn more about the AGO, visit www.agohq.org. To find out more about Fayetteville's First Presbyterian Church, visit www.firstprez.com.