The Sandhills State Veterans Cemetery branch of Wreaths Across America will hold their annual wreath laying event Saturday, Dec. 17 at noon at the Sandhills State Veterans Cemetery in Spring Lake. The wreaths are to honor and remember those who have served in the United States military and who are laid to rest in veterans' cemeteries.
Wreaths Across America started in Arlington National Cemetery in 1992. A local wreath maker created wreaths for the cemetery as a tribute to the veterans buried there. National Wreaths Across America Day was soon created, and now the day encompasses more than 2,500 veterans' cemeteries across the nation.
"The Wreaths Across America motto is 'Remember, Honor, Teach.' Remember those who served, honor their families and people currently serving now, and teach the next generation the value of freedom. They couldn't have come up with a better motto," said Ann Provencher, coordinator of the Sandhills State Veterans Cemetery Wreaths Across America Day.
Provencher is in her fourth year as coordinator of the event and her twelfth year as a part of the organization.
"I'm a military family person, my grandparents served, my dad served, I served, my husband served, a couple of my kids served. I'm a very veteran oriented person. Anything that honors our veterans I am pretty much a part of it," Provencher said.
Wreaths Across America Day will kick off at the cemetery with the delivery of the wreaths. This year, Provencher is hoping to have around 8,000 wreaths to lay at both the Sandhills State Veterans Cemetery and the Main Post Cemetery on Fort Bragg.
The Fayetteville Independent Light Infantry will present the colors, and the Overhills High School marching band will play throughout the ceremony.
A regimental bagpiper will play Amazing Grace, and the Missing Man Table will be presented by the Women's Veterans Interactive Group. New to the ceremony this year will be a large magnetic board with an empty wreath frame. Each wreath is built of 10 balsam bouquets, and each bouquet of the wreath has an important meaning.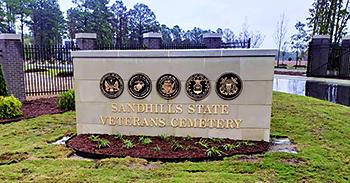 This year, Gold Star families will build a wreath on the board as Provencher talks about the individual pieces. The 10 qualities that veterans embody include such ideas as strength, pride, humility and hopes and dreams.
Once the ceremony has concluded, those in attendance will begin laying the wreaths on headstones. There is an important way to do this, Provencher said.
The wreath is placed at the bottom of the headstone with the ribbon on top. Once a volunteer places the wreath, they say the veteran's name out loud and pay their respects, whether through a moment of silence or a brief prayer.
Provencher said saying the name out loud is important.
"The reason we pay tribute and lay the wreaths, say their name and pay our respects is so that they are remembered. A lot of times family moves on or dies off and no one is left to visit them," she said.
"I have friends buried in Sandhills. It's important that they are remembered. I'm a firm believer you die twice, once when you leave your body and once when you're forgotten."
Wreaths Across America Sandhills State Veterans Cemetery is always looking for volunteers and donations to continue to honor and remember our nation's veterans.
To sponsor a wreath visit www.wreathsacrossamerica.org/pages/166832. To volunteer or to donate, contact Ann Provencher at 910-670-9280 or by email at ann3989@yahoo.com.