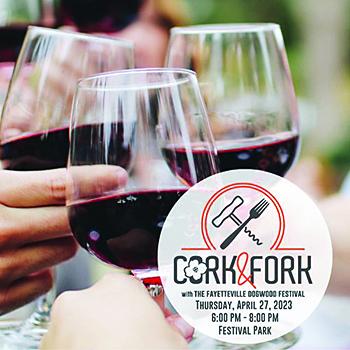 The Dogwood Festival kicks off this year with its premier food and wine event, Cork &Fork.
This celebration of food brings together local chefs and restaurants in one place for people to try out their tasty offerings. Wine pairings will also be available as part of the event.
Cork &Fork will be held at Festival Park in downtown Fayetteville, April 27 from 6 p.m. to 8 p.m. Single tickets purchased before April 27 are $40. A "date night" couples' ticket is $75. Day of tickets are $45.
Guests can visit the different food and beverage vendors and sample hors d'oeuvres created especially for Cork & Fork. Included in the cost of the ticket are unlimited food tastings and 10 wine sample tickets. Each ticket is worth a 2 ounce sample pour of wine. Three tickets can be used for a full 6 ounce pour or a 16 ounce beer.
Vendors include Bees & Boards Charcuterie, Guatemala Centro America, Burney's Sweets and more, and Gaston Brewing Company, as well as several others.
"This is the third year that we've been doing Cork & Fork," said Troy Rasmussen, owner and president, Gaston Brewing Company.
"Last year we did a spinach and feta stuffed ravioli in a pesto Alfredo sauce. It was a huge hit, so we are probably going to be doing something similar this year."
Rasmussen said Gaston Brewing Company will also be providing beverages for the Dogwood Festival as a whole. Their blackberry ale, Velvet Art, will be available as well as their New England IPA State of Lunacy. Their Namaste Lavender Ale will also be served.
"We think it's a great collaborative relationship to partner with these different festival organizers and organizations within our downtown space," Rasmussen said. "The more successful these festivals and events are, the more it brings people downtown, and that benefits all of us. For us, it's an opportunity to be a part of something and hopefully our little contribution helps to add to the success of the event."
Tickets to Cork & Fork can be purchased day of, or in advance at www.thedogwoodfestival.com/cork-fork.