On June 16, KISS ARMY and Mirimage will be performing at Rock'n On The River for those who enjoy live music, relaxing and having a good time. The Deep Creek Grill, near the Campbellton Landing on the Cape Fear River, will host the event.
Mirimage is scheduled to begin at 6 p.m., and KISS ARMY at 8 p.m., said Greg Adair, organizer of the Rock'n On The River concert series. KISS ARMY, who call themselves the"coolest band in the world," hail from Kentucky but play once or twice a week in communities across the nation. KISS ARMY, who are decked out in the recognizable KISS face paint and attire, offer a striking glimpse into KISS's 1970s line-up.
"When we go out there, we try to make people think it's KISS. That's the whole point of being a tribute band," said Jim Seda, who has performed as the "Demon" for more than 30 years.
According to band lore, each member of KISS has a persona. Additionally, each persona contributes to what makes KISS unique.
Since the original four-piece phenom KISS split up in 1980, lead singer Paul Stanley ("Starchild") and bassist Gene Simmons ("Demon") have been reformed. In 1980, Eric Carr ("Fox") replaced Peter Criss ("Catman") as the band's drummer, and Vinnie Vincent ("Egyptian Warrior") replaced Ace Frehley ("Spaceman") in 1982.
KISS made the decision to "unmask" themselves in 1983, putting an end to what was regarded as the "real" KISS in favor of a more modern 1980s appearance, sound and vibe. Yet, starting in the late 1990s, KISS reconvened as the original band for a string of international farewell concerts.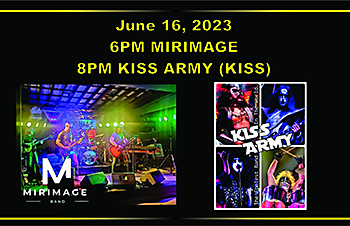 The demand for KISS increased when the original members of KISS got back together for the first farewell concert, and Seda's band was asked to play shows when KISS was unable to, he said. However, "it works both ways" since even when KISS isn't performing, fans still want to see them.
Mirimage is an up and coming Southern rock/country band. The band, led by Bobby Gilstrap, consists of five members who are all equally excited each time they hit the stage. They are sure to become a local favorite.
The stage will be set up directly behind Deep Creek Grill, literally rocking next to the Cape Fear River. Rock'n On The River is presented by Healy Wholesale with partners Bob 96.5 FM radio and Up & Coming Weekly. The concert is free and open to the public, but there is a $10 parking fee. Outside coolers and containers are not permitted. Only service animals are permitted.
Food can be purchased from Deep Creek Grill on site and Healy will be serving alcoholic beverages. Food and beer will be available for purchase starting at 5 p.m. Rock'n On The River takes place at 1122 Person Street. For more information, visit https://www.facebook.com/profile.php?id=100049990406810.