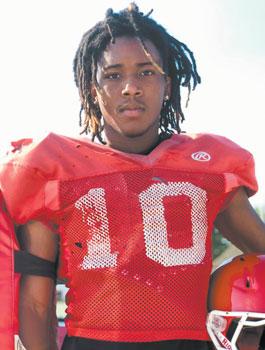 A lot of folks were worried how Seventy-First was going to fare when it stepped into the rugged Sandhills Athletic Conference last season and had to take on traditional powers like Richmond Senior and Scotland.
Falcon coach Duran McLaurin wasn't among the doubters. "We were picked to finish fourth or fifth in that conference, and we finished second,''McLaurin said. Actually, the Falcons tied for second with Richmond Senior, which beat them 25-19, ending the season 9-4 overall and 5-2 in the league.
McLaurin said there was no disgrace finishing behind a Scotland team that won the Eastern 4-A championship. At this year's spring workout sessions, McLaurin worked toward doing as well or better than last year.
"We want to build depth, take a look at some of the sophomores that are going to be coming up from the junior varsity team and see if they can plug in some spots,'' he said.
The big concern on offense is replacing 1,000-yard rushers Fabian Jones and Juan Maddox. The good news is quarterback Kyler Davis is back. "He's special,'' McLaurin said. "He's going to be a good one.''
Davis is the second-leading returning passer in the county with 1,778 yards and 19 touchdowns last season. He was only intercepted three times.
Offensive line returns some key players like Benjamin Willis and Tristan Hill.
McLaurin is counting on linebacker Javen Washington to be the defensive leader.
"We've got a lot of athleticism on both sides of the ball,'' Washington said. "We've got a lot of young guys that can play.''
Washington said the linebacker corps is seniorheavy, with himself, Jaliyah McNeil and Devante Wedlock returning. He said that trio will be key to Seventy-First's success this season.
McLaurin expects the Falcons will contend for the conference title again this year. "Football is football,'' he said. "You've got to be able to run the football and be able to stop the run. Those are
things I feel we do.
"As long as we stay stout against the run and not give up big plays in the secondary, do what we've been doing the last four or five years, which has been effective, I think we'll be right there.''
PHOTO: Linebacker, Javen Washington