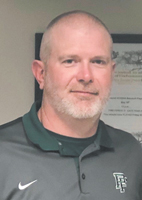 The North Carolina Coaches Association East-West All-Star games are scheduled July 15-16 in Greensboro in conjunction with the annual North Carolina Coaches Association Clinic.
Following are capsule biographies of the Cumberland County coaches and athletes who were selected to compete in this year's game. This list was current as of press time, but players can be added or dropped up to the week of the games, depending on availability.
Basketball: Girls
Monday, July 15, 6 p.m., Greensboro Coliseum
• Coach: David May, Pine Forest
East girls head coach. This will be May's final game as head coach. Stepping down after coaching both girls and boys at his high school alma mater, Pine Forest. Career record of 298-199 in 19 seasons. Teams won two regular-season conference titles, two conference tournament titles and made 11 trips to state playoffs. Three-time conference Coach of Year. Also Cape Fear Region and District Coach of the Year. Played college basketball at University of North Carolina at Pembroke.
• Players:
Kendal Moore, Pine Forest: 5-6, guard Named Associated Press All-State. Second team North Carolina Basketball Coaches Association All- State. All-Conference, Conference All-Tournament, All-District. Played in the North Carolina-South Carolina All-Star game. Averaged 24.6 points, 4.5 assists. Headed to North Carolina State on scholarship, where she will major in biology.
Alexandria Scruggs, E.E. Smith: 6-0, forward Associated Press All-State and North Carolina Basketball Coaches Association All-State. District Player of the Year. Led team in scoring with 26.2 points per game and rebounding with 12.8 per game. Member of E.E. Smith Academy of Scholars. Will attend Wake Forest on scholarship and major in health and exercise science.
Kate Perko, Terry Sanford: Forward, 5-11: All-Conference and All-Tournament. Averaged 14 points and 11 rebounds per game. Scored 1,181 career points. Member of the Fellowship of Christian Athletes, National Honor Society and National Latino Honor Society. Will attend Meredith on a scholarship. Her mom, Amy Privette Perko, played for the West All-Stars in 1983.
Basketball: Boys
Monday, July 15, after girls game, Greensboro Coliseum
• Players:
Brion McLaurin, Seventy-First: 6-7, forward All-Conference, Conference Player of the Year, All-District, District Player of the Year, Ike Walker Holiday Classic MVP. Averaged 17.7 points and 10.7 rebounds per game. Earned scholarship to Chowan University, where he will major in sports and fitness management.
Football
July 17, 8 p.m. at Grimsley High School's Jamieson Stadium
• Coach: Duran McLaurin, Seventy-First
East assistant coach. In six seasons at his alma mater Seventy-First, McLaurin is 56-18. His career record is 82-44. Teams have won two conference titles with nine state playoff appearances in 11 seasons. Played college football and basketball at North Carolina Central. Has also been a head coach at E.E. Smith and assistant coach at Westover, South View and Seventy-First.
• Players:
Dante Bowlding, Terry Sanford: 5-10, 180, defensive back Named All-Region and All-Eastern. Conference Defensive Player of the Year. Had 172 tackles, 80 solos, five tackles for loss and five interceptions. Alltime school leader in tackles with 419. Will attend University of North Carolina at Pembroke on scholarship and major in exercise science and physiology.
Kyler Davis, Seventy-First: 6-1, 208, quarterback All-Conference and team Offensive Player of the Year. Passed for 5,829 yards, 55 touchdowns and rushed for 2,262 yards and 24 touchdowns for his career. Volunteer at McNair Foundation. Active member of Spring Branch Missionary Baptist Church. Undecided on college choice.
Photo: David May