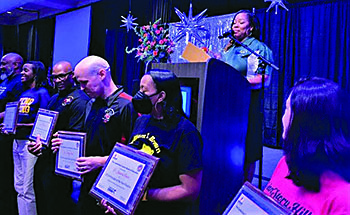 Always the educator, Erica Fenner-McAdoo left the 2023 Convocation and Cumberland County Schools Premier Professionals "red carpet" awards reception with a lesson and a challenge for the hundreds of principals, assistant principals, teachers and teacher assistants who gathered Aug. 15 at the Crown Complex ballroom.
The moment may have belonged to Fenner-McAdoo, but it was a moment the 42-year-old 2024 Principal of the Year would embrace with all who share a passion for educating young people throughout the county's public schools system.
"I want to encourage you to be bold this year," Fenner-McAdoo, principal at Howard Hall Elementary, would say after accepting the Principal of the Year honor in front of more than 400 educators. "Our students need you at your best. Come back every day united for your students' success."
Others honored were Kristle Rouse of Westover High School, Assistant Principal of the Year; Steven Barbour of Terry Sanford High School, Teacher of the Year; and Sade' Mangum of Seventy-First High School, Beginning Teacher of the Year.
"Today, we celebrate the heart and soul of Cumberland County Schools," Deanna Jones, chairwoman of the Cumberland County Board of Education, would say prior to the awards presentation. "You are the architects of dreams and champions who inspire us all. We celebrate those who make every student rise."
For Fenner-McAdoo, teaching is a part of her DNA. Her mother, Linda Bowser, was an educator in Cumberland and Moore county schools. Her sister, Shanessa Fenner, is principal at W.T. Brown Elementary School.
"I'm so proud," Linda Bowser would say about her daughter's selection as Principal of the Year.
Fenner-McAdoo is a 2002 graduate of North Carolina A&T University with a degree in early childhood education. She earned her master's in education administration from Fayetteville State University in 2009. She began her career with Cumberland County Schools as assistant principal at Ponderosa Elementary School before becoming a principal at Walker-Spivey Elementary School in 2014 and Howard Hall Elementary School in 2017.
"I'm overjoyed," she would say of the honor as the school system's premier principal. "I'm just honored. This is a major accomplishment, I know, and I'm just humbled."
Fenner-McAdoo, according to the school system, qualifies to compete for the Sandhills Regional Principal of the Year title.
'Something I love to do'
Rouse, 37, would say as much as the Assistant Principal of the Year.
"I'm honored for being recognized for doing something I love to do," she would say.
Rouse is a 2011 graduate of Fayetteville State University with a degree in psychology and a minor in biology. She holds a master's from Grand Canyon University in Arizona. Rouse has been at Westover High School since 2017, where she began as a biology teacher before being named assistant principal and athletic director.
Like Fenner-McAdoo, teaching is in Steven Barbour's DNA. His father, Tucker Barbour, was an assistant principal at South View High School when it opened in 1972 in Hope Mills.
"I'm humbled," he told those in attendance. "I've been teaching over 20 years, and I see a lot of familiar faces around this room. I'm humbled, and it's about the joy of working with students."
Barbour, 52, is a 1989 graduate of South View High School. He earned his undergraduate degree in international affairs and economics in 1993 from American University and his master's in social studies education in 2009 from the University of North Carolina at Pembroke.
You don't have to wonder about his passion for being in the classroom. You can see the passion in his eyes.
"When I shut the door and have 90 minutes," Barbour says about teaching students AP World History, "I'm overwhelmed."
Barbour is in his seventh year as a faculty member at Terry Sanford High School, where he also coaches the boys and girls soccer teams. And where Barbour also pays honor to Chris Hondros, the American war photojournalist and Terry Sanford graduate who died at age 41 in 2011 covering violence in Libya.
"Mr. Barbour is an outstanding educator, coach, mentor and overall wonderful person who exemplifies distinguished leadership in the teaching profession," Catherine Abraham-Johnson, the Terry Sanford principal, says about Barbour, who will compete for the regional teacher of the year title.
Mangum, 30, came to teaching after owning her own business as a notary public.
"I'm just very humbled," she would say, "and excited about being ready to make and tackle being teacher of the year."
A 2010 graduate of Seventy-First High School, Mangum earned her undergraduate degree in psychology from Winston-Salem State University and currently is pursuing her master's in education at UNC Pembroke. She is cheerleading coach at Seventy-First High.
Mangum will compete in the statewide North Carolina Center for the Advancement of Teaching 2023-24 Beginning Teacher of the Year award.
Epilogue
Administering a school isn't easy, particularly in these times of unrest and social media and where every principal seems to face scrutiny along his or her way.
Neither is being a classroom teacher.
But I can tell you that for every successful student, you'll find a principal and a teacher who made a difference in every student's life and his or her future to come.
"Today, we gather to celebrate true champions of education," Marvin Connelly, superintendent of Cumberland County Schools, would tell those at Tuesday's reception. "Today, we celebrate your remarkable contributions."