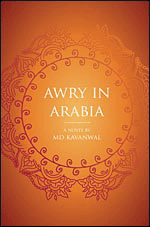 It takes a special kind of person to leave the security of what they know and what they are comfortable with and set off for foreign lands. But that is just what Mary D. Kavanwal did.
On April 13, at 7 p.m., Kavanwal will be guest speaker at the Headquarters branch. As noted on the Cumberland County Public Library & Information Center Web site, after living and working in Saudi Arabia, Kavanwal came face-to-face with the hidden culture and the self-proclaimed righteousness that leads to impulsive and violent aggression toward others. She is convinced that even though the world may want to believe otherwise, a dangerous threat continues to be fostered within infl uential circles inside the Kingdom of Saudi Arabia.
Her story provides a detailed look into a culture that many Americans don't — or possibly don't want to — understand. What she writes is engaging, frightening, frustrating and enlightening. As interesting as her experience was in Saudi Arabia, how she got there is a story in itself as well.
After working as an on call nurse for several years, Kavanwal tired of waiting for a permanent position to open up and she became a travel nurse. Then, answering an ad in a nursing magazine, she committed to a job in the Saudi Kingdom. Discounting scary stories and warnings from friends and family, she made her way to Riyadh, Saudi Arabia, to work in the King Faisal Specialist Hospital and Research Center for two years.
In a case of truth being stranger than fIction, Kavanwal found drama and adventure practically the moment that she stepped off the airplane. Not one to be scared off by the arrest and imprisonment of her roommate, or living in a culture that considers women lesser beings than their male counterparts, she stayed in country. As the twin towers fell on 9/11, Kavanwal experienced odd reactions from her host countrymen.
In her two books, Surreal in Saudi and the sequel Awry in Arabia, Kavanwal shares her insights and adventures in this land that is so different from the country and culture so many of us know and love.
"Her story is fascinating and probably unlike any we have heard of from a woman, who spent time working in Saudi Arabia," said Kellie
Tomita, marketing and communications manager at the library. "I hope many people will attend this program because I think it will provide an insight into the Arab culture that we would otherwise not be able to have."
The event is free and open to the public. For more information visit http://www.cumberland.lib.nc.us or call the Headquarters Library at 483-7727. For more information on the author and her writings visit her Web site at www.insidesaudi.com/author.html.