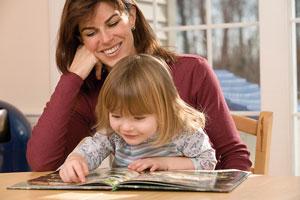 Yea! School's out for summer break! Time to hit the books –– that is, books for fun and pleasure! Head on over to your local Cumberland County Public Library (CCPL) branch or the John L. Throckmorton Library on Fort Bragg and sign the family up for one of the free summer reading programs.
"Our summer reading club is a way to motivate kids –– all the family –– to read," said Kellie Tomita, marketing and communications manager at the Cumberland County Public Library and Information Center. "We have great special programming for all ages."
The CCPL summer reading program, which started June 7 and runs through July 31, offers clubs for three age groups, with gift incentives. Participants may pick up a packet of guidelines and a Reader's Log at any library branch.
"Make a SPLASH. READ!" is for children birth through fi fth grade, who earn free prizes for the number of hours that they read or that someone reads to them. They may attend regularly scheduled story times or sign up for special ageappropriate programs featuring puppet shows, clowns, interaction with nature's critters and more to earn prizes.
Teens are encouraged to "Make Waves at Your Library." After reading fi ve books and fi lling out a reading log, teens may exchange the log for a prize and pick up a continuation log. Each completed continuation log may be brought into any library location and entered into drawings for gift certifi cates. All returned logs are then eligible for entry in the grand prize drawing for a gift certifi cate. Additionally, individual branches offer special programs for teens, such as movies, writing, gaming, anime, origami, jewelry and other crafts.
Adults may read or listen to books or attend one of the library's book clubs in June or July to complete their logs. As with the teen program, adults may exchange their readers' log for a prize, and each continuation log may be entered into drawings for gift certifi cates. Supplies of prizes and space at special programs are limited.
"We want to encourage people to read and to visit the library," Tomita said. "The Friends of the Library do fundraisers for community programs. The summer reading program is one of these benefi ts. It's rewarding to see the positive feedback. Last year we had husbands and wives competing and out-reading one another. We want reading to be fun and rewarding."
"Voyage to Book Island," the summer reading program at Fort Bragg's John L. Throckmorton Library, located in Building 1-3346 on Randolph Street, takes place at 11 a.m., June 23 through July 28.
"It's part of our literacy initiative," said Bernadette Ross, reference librarian. "We want to emphasize reading as a lifelong skill for all ages. We'll have stories, games, crafts –– entertainment, but educational for all. We'll give gifts throughout the program –– grab bags, certifi cates. We offer a series of reading programs, including the summer reading program and our upcoming Picnic in the Grove on Nov. 6 to help children celebrate reading."
For more information on the CCPL Summer Reading Program, call the Headquarters Library at 483-7727 ext. 300 or visit www.cumberland.lib. nc.us/ccplyouth/summerreadingclubs10.htm. For additional information on "Voyage to Book Island," call the John L. Throckmorton Library at 396- BOOK, or visit /www.fortbraggmwr.com/libraryevents.php, because summer break doesn't have to mean a break in reading.