The world renowned Dance Theatre of Harlem (DTH) and The Imani Winds are the highlight attractions for the 2010-2011 Performing and Fine Arts Season at Fayetteville State University (FSU).
The Department of Performing and Fine Arts is pleased to welcome the Imani Winds as its artistin- residence for the academic year. The Imani Winds has redefi ned the classic woodwind quintet by commissioning new works and reaching out to diverse audiences of all ages. During their residency, members of the group will be available for master classes, private lessons, group lessons, clinics, and workshops both on the FSU campus and throughout the community.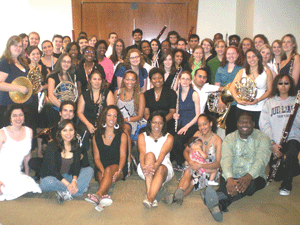 Imani Winds Residency dates are September 27-29, November 15-17, February 14-16 and April 18-20. They will culminate their residency with a concert featuring the ensembles they coached during their tenure. The concert will be held April 19 in Seabrook Auditorium at 7 p.m. Highlighting the evening will be a composition for the FSU Concert Choir and Jazz Ensemble by Imani Winds flautist Valerie Coleman. The performance is free and open to the public.
Imani Winds has established itself as more than a wind quintet. Since 1997, the Grammy nominated ensemble has taken a unique path, carving out a distinct presence in the classical music world with its dynamic playing, culturally poignant programming, genre-blurring collaborations, and inspirational outreach programs. With two member composers and a deep commitment to commissioning new work, the group is enriching the traditional wind quintet repertoire while meaningfully bridging European, American, African, and Latin American traditions.
DTH will perform an evening of traditional and classical ballet on April 3, 2011 at 6 p.m. in the J.W. Seabrook Auditorium. Admission cost will be determined at a later date. Proceeds will benefi t the FSU Department of Performing and Fine Arts as it seeks to raise needed scholarship dollars for students in music, dance, theater, and visual arts. An interactive performance for students will be held April 4 at 11 a.m. It is free and open to the public. A workshop for FSU dance students will be held at 1 p.m.
DTH will enchant and enthrall with a new production called the "Interactive Performance." Central to the "Interactive Performance" is a ballet performance that opens audiences to see the world in a whole different light. It features live piano music, a narrator to serve as a guide "to take you along the journey," and classic DTH repertoire by choreographers Arthur Mitchell, Robert Garland, and John Taras, as well as repertoire specially created for the DTH Ensemble (by choreographers Keith Saunders and Lowell Smith). The variety of the high quality artistic content gives the presentation a fast pace. Proceeds from this event will provide scholarships for students in music, dance, theater, and the visual arts.
Dance Theatre of Harlem is a leading dance institution of unparalleled global acclaim, encompassing a "Classically American" dance company, a leading arts education center and "Dancing Through Barriers," a national and international education and community outreach program. Each component of Dance Theatre of Harlem carries a solid commitment towards enriching the lives of young people and adults around the world through the arts.
This is just a small taste of the exciting season that FSU has in store. Look for Shakespeare's The Tempest, Lalo Davila and Friends Salsa Band, the Fayetteville Symphony Orchestra, The Diviner's, and "Framless: New Mexico Printmakers among other exhibits and performances.
To find out more call 672-1006 for info on the Butler Theater Series, 672- 1309 Rosenthal Gallery Series, or 672-2143 for the Harmony Series.
Photo at top: Imani Woods