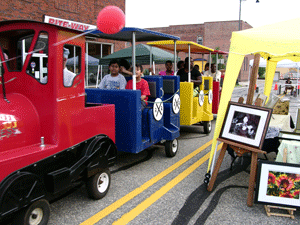 4th Friday is always a good time, but this month it is going to be extra special. The Arts Council of Fayetteville/Cumberland County has plenty going on as they kick off the International Folk Festival.
"We will host the opening of our Cultural Expressions exhibit on the evening of 4th Friday," said Arts Council of Fayetteville/ Cumberland County Marketing Manager Mary Kinney.
The exhibit is made up of pieces created by the different cultural groups participating in the International Folk Festival. The call for art included everything from 2D art to sculpture and mixed media.
Several artists will be demonstrating their skills as well.
Participating artists will showcase jewelry design and creation, painting, loom weaving, stenciling and more — including a live performance by Ghanian pop singer Ofori Amponsah.
"He will perform at Friday evenings festivities as well as on the Rainbow stage on Saturday," said Kinney. "The Arts Council events are really enhanced this month in celebration of the International Folk Festival."
The downtown shops and galleries will be open late in anticipation of the crowds that routinely fi ll the streets on the fourth Friday of every month. If you are near the Market House check out the Art Guild's juried exhibition Contemporary Compositions featuring the work of N.C. artists created in 2-D and 3-D including photography, jewelry, pottery and more.
The Cotton Exchange Express will be giving free train rides for kids and their parents. Don't forget, there is lots of great shopping inside the Cotton Exchange after the train ride!
Sharpen your Ninja skills at Fascinate-U. The Bite Training Center will be doing some martial arts demonstrations and teaching some cool moves, too. It's free.
At the n2 gallery space at 106 Hay St., Pulitzer Prize-nominated photojournalist Chris Hondros' works will be displayed. The exhibit is entitled "The Current Wars: Images from Iraq and Afghanistan, 2001-2010."
Hondros has traveled frequently to both countries since 2001 and is one of America's leading war photographers. His work captures the brutal realities of war as well as the beauty and serenity that can so
metimes be found in the more quiet moments in the lives of the soldiers and natives facing such horrors.
"This exhibit really looks at the wars in a very personal, intimate way. I don't pull any punches on this. Any war is brutal .The Iraq and Afghanistan wars have their share of brutality and some of that is included in the show," said Hondros. "There are also lighter moments that people might not expect — things that I think are often missing in the coverage of Iraq and Afghanistan — the normal moments of life in these places. Life does go on under any conditions and there is more day to day normalcy in life there than people sometimes realize."
You may have noticed painters around town last month during the Cape Fear Studios paint out days. The artists captured scenes from around town and will be exhibiting their works in the Plein Air Show through October 20th.
The Headquarters Library always has something interesting going on and 4th Friday is no different. It is hosting a panel discussion with Fulbright Foreign Language Teaching Assistants from Fayetteville State University. There will be visiting scholars from China, Kenya, Nigeria and Kuwait talking about their life experiences and what America means to them. A question and answer session will follow.
"We've got some really big events planned this month," said Kinney. "There is plenty going on downtown for the public to enjoy."
To find out more, visit www. theartscouncil.com or call 323- 1776.
(Photo top left) July 4th Friday Cotton Exchange train entertains the crowd.
(Photo right) A photo of General Petraeus taken before the surge of 2007. Taken by Chris Hondros.