Soldier Show 27.0, the 2010 U.S. Army Soldier Show, an "entertainment for the Soldier, by the Soldier" song-and-dance production revolves around the current social-media phenomena. You can catch it on Oct. 1-2 at the Crown Coliseum Complex.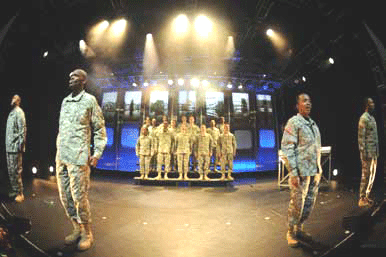 "It's the 27th year and it's a new version, just like a new version of a computer program, but it's built on the foundations of all the past versions," Soldier Show Production Director Victor Hurtado said. "Basically, it's like a computer screen. When you walk in, you'll see the desktop, and all of the transitions are like Facebook or Google with a PDF."
Soldier Show regulars might recognize a few familiar-looking faces because three siblings of 2004 Soldier Show performers are among this season's cast: Spc. Philip Plasterer, Spc. Brian McAleese-Jergins and 2nd Lt. Katherine Melcher. And Sgt. Kevin Cherry, another 2004 performer, returns for his second go-round with the Soldier Show.
In addition to much ado about keeping it all in the family, the 2004 and 2010 themes somewhat resemble each other. The previous show revolved around how deployed Soldiers kept in touch with loved ones via cellular telephones and electronic mail. Those communication devices have since been supplemented by faster-moving and farther-reaching social-media tools, many of which the Army has embraced.
Hurtado was quickly impressed by this year's Soldier Show performers.
"When I hear them sing together, it's like the most glorious choir," he said. "People are going to be just shocked by how good they are."
Soldier Show founder Irving Berlin would not have wanted it any other way. The Soldier-performers, in turn, will honor the founding father of Army Entertainment.
"There's some great historical content with Irving Berlin," Hurtado explained. "We have much better video technology this year with moving projectors. We're going to be able to use that during the show for a lot longer lengths of time, so we have voiceovers with Irving Berlin and some of his work.
"The show will open with Disturbed's heavy metal anthem "Indestructible," which was written to inspire Soldiers headed for battle.
"It's meant to be something that would make them feel invincible, take away their fear, make them strong," Disturbed lead vocalist David Draiman said.
As always, the troops will deliver several genres of music and dance, complete with Soldier-musicians on guitar, bass, keyboard and drums.
"We have an incredibly trained male ballet dancer," Hurtado said. "Pfc. Andrew Enriquez brings an incredibly masculine [Mikhail] Barysh-nikov style. He's really good, and we're using him throughout the show.
"And, of course, there's a tribute to the late Michael Jackson.
"With the Michael Jackson segment, we're just making use of what he left behind," said Hurtado, who revealed the medley will include "ABC," "I Want You Back," "I'll Be There," and "Jam." "I don't want to give too much away, but the very last piece is something that you'll defi -nitely recognize," Hurtado added while moon-walking backwards.
"The most important thing about the show this year, the finale is being written by the cast," Hurtado said. "As a group, they are writing an original song, and it's really coming together beautifully. It's going to have to do with resilience and the inspiration of bouncing back."
The U.S. Army Soldier Show has exhibited those qualities for 26 years, and likely will do so again — along with brothers and sisters and a few old friends – for "Soldier Show 27.0."
The event is free and open to the public. Shows are at 7 p.m. on Oct. 1 and at noon on Oct. 2. For more information, visit www.atthecrown.com