Up & Coming Weekly readers know that this paper supports art and artists in the community. We cover the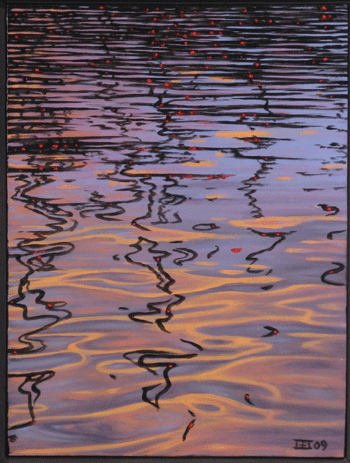 events, do profi les as space permits and try to keep our readers informed about the goings on in the art community. We cover everything from concerts to plays and exhibits throughout the area and even have our own Gallery 208 and Leonard G. McLeod Gallery in our corporate offices. In fact, if you've never been, we have a new exhibit coming up that you won't want to miss.
On Feb. 24 from 5:30 - 7 p.m. Up & Coming Weekly invites you to join us for the opening reception of Bayscapes and Other Reflections: The Works of Clarence Schumaker in Gallery 208.
Shumaker's works in this exhibition are primarily, as the name suggests, water scenes. The oil paintings capture the magic of the bay at different times of day and in different seasons, evoking both the calming effect of a still, quiet day on the water and the harshness that ice and winter can bring to the coast.
This collection is a body of work that Schumaker has assembled over time. Living on the Chesapeake Bay and having nonstop access to the water has proven to be a source of inspiration for him.
"I live in a little fi shing village and there is a beach that is just a short walk from my house — I'm just enamored with the water and the qualities of it that are always changing," said Schumaker. "I've got this view that I don't care what day, what time of day it is, it is always different and there is a certain timeless quality to that."
His love of the water has inspired Schumaker to investigate the bay from every angle he can, from the shore out and from the water in, there is always something new to paint.
"A lot of my pieces are from the water — views that you wouldn't normally get if you are a land lover. It gives a whole different perspective of living on the land when you get to see it from the water and see how small everything really is," said Schumaker. "I am just trying to make pieces that will make someone pause and take their time and soak it in just like you would in nature. I think everybody is on a 24/7 news cycle and there is nonstop chatter going on and that is why people do like to get away. I am just trying to capture the feelings people have when they go to the beach — they kind of take their time and gotta stare at the water a little while."
While this particular exhibit is about the water, Schumaker is also a sculptor, muralist and graphic artist. Check out more of his work at www.daybreakstudios. com or come to the art opening and hear what he has to say about his work.
"We are always excited to feature talented local artists in our galleries," said Up & Coming Weekly Publisher Bill Bowman. "We look forward to these openings as a time to interact with the arts community and with our readers. There's always great food and a good time is usually had by all."
Also featured at this event will be the works of Chris Pruitt in the Leonard G. McLeod Gallery.
Up & Coming Weekly's corporate offi ce is located at 208 Rowan St. Join us for refreshments and networking. For more information, call the Up & Coming Weekly office at 484-6200.
Photo: Twilight Reflections by Clarence Schumaker