When a big rig passes by, Little Johnny straightens up in his seat. When he hears the engine roar his heart speeds. He ogles the enormous tires. He hopes the driver, who sits much higher than he does, will shoot a glance in his direction. This month, Johnny will touch, climb and sit in the driver's seat.
St. Andrews Academy will host its fourth annual Truck Touch event from 10 a.m. to 2 p.m. on March 26 at 121 Lofton Drive off Ramsey Road in Fayetteville. The event is a fundraiser for the school, which is hoping to raise monetary support to improve classrooms and buy additional supplies and books, according to Candice Moody, the organizer of the event.
"The purpose for Truck Touch is to provide a great family event that everyone can enjoy. Last year the money we raised went to our beautiful new playground. This year we will use it for improvements and expansion," said Sara Ryberg, the coordinator of St. Andrews Academy's parent group, Parents of Preschoolers.
Truck Touch will feature more than 15 different vehicles ranging from basic street vehicles like the Jeep Wrangler to humongous headliners like a cement truck and 18-wheeler. The City of Fayetteville is providing a Police K9 Team and street sweeper truck.
"This is the first time we've been involved with something like this," said Scott Thornall, Street Maintenance Superintendant for Fayetteville. "The kids will have fun with it and it will give us a chance to educate the community."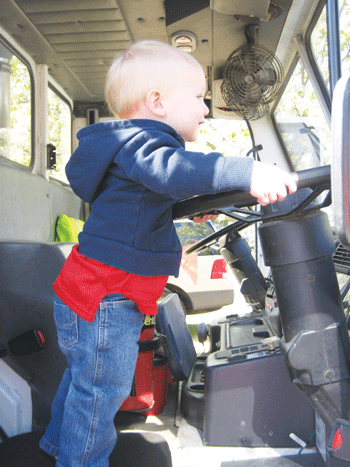 It's important to Thornall that the kids learn something about street sweeping and storm water maintenance. "It's not just about aesthetics, we are cleaning oil and greases that could be harmful to the environment," Thronall said.
Not to worry, Mom and Dad will have something to do as well. In addition to the trucks, St. Andrews Academy will host a silent auction, a yard sale featuring community-donated items, vendor sales, face painting, bounce houses and more.
"I am very excited for this year's Truck Touch. Besides the vehicles and bounce houses, we have added an inflatable race track for the kids to enjoy. The adults will also be able to have fun while shopping at our small-business expo and yard sale," Ryberg said.
Tickets for the event are $4 and can be purchased at the event. Early birds can save a dollar and buy tickets at the school office prior to March 26. The rain date for the event is April 2.
"I liked big trucks as a kid," said Thornall. "The truck has lots of knobs and controls and the kids will be able to sit in the cab."
Next time Little Johnny heads down I-95, he'll see another big rig. This time, when his eyes meet the trucker's, he'll nod with a respectable, "I've sat in your seat before."
PHOTO: St. Andrews Academy will host its fourth annual Truck Touch event from 10 a.m. to 2 p.m. on March 26.