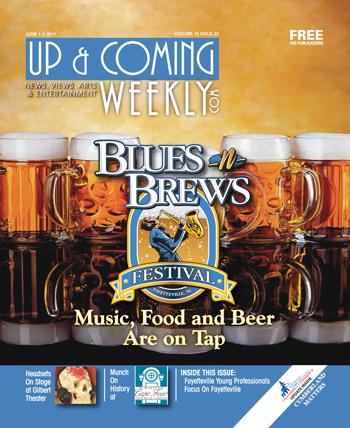 "From man's sweat and God's love, beer came into the world."
–Saint Arnold of Metz, The patron Saint of Brewers
On Saturday, June 4, Fayetteville lovers of beer and the blues will get a chance to indulge themselves, as the Cape Fear Regional Theatre brings the 8th Annual Blues and Brews Festival downtown.
The event, which was fi rst held down by the river at Campbellton Landing, now calls Festival Park home. Each year the theatre brings some of the best brewers and beers from around the southeast for one afternoon. For much of that time, veteran CFRT performer Cassandra Vallery has been at the helm of the event. She has seen the festival grow each year and expects this year's Blues & Brews Festival to be better than ever.
"We are bringing more than 19 of the best brewers from around the southeast to Fayetteville," said Vallery. "We also have some of our great local distributors who are going to bring the beers that they represent so that people will have a great variety of beers to sample."
Each of the breweries will bring a variety of their beers to the festival, which usually showcases around 50 different individual beers. Each ticket gives the attendee a 6 ounce souvenir tasting glass to use throughout the afternoon. As beer connoisseurs work their way around the festival grounds, they will have the opportunity to sample the beer and talk with the brewers about them
.Some of the brewers who will be on hand are:
Duck-Rabbit Craft Brewery, a Farmville, N.C., based brewery that specializes in dark beers. The brewery opened in August of 2004, and has been involved with the festival since its inception. According to the brewery's website, the brewers "specialize in beautiful, delicious, full flavored dark beers."
Some of the brewery's offering are: an amber ale that is a medium bodied beer with a lovely tawny copper or bronze color. This brew emphasizes malt complexity with layered caramel malt flavors; a brown ale that is an American brown ale brewed with loads of hops from start to finish and a flowery aroma; and a porter that features a pronounced flavor of roasted grains reminiscent of dark chocolate.
Lone Rider Brewing Company, a Raleigh-based brewery, touts itself a brewing "ales for outlaws."
Offerings include: Shotgun Betty, which is a German-style Hefeweizen wheat beer with a rich
banana-clove nose and refreshing dry finish; Peacemaker, a west coast-style American Pale Ale with a unique and bountiful hope aroma with a well-balanced bitterness; and Sweet Josie a complex American brown beer that has a nice hop bitterness with a generous amount of chocolate and aromatic malts.
Kinston-based Mother Earth Brewing will also be at the festival. The brewery puts "fresh hops and malts" and "a lot of heart and imagination into every Mother Earth bottle." Offerings include Endless River, which is a clean, crisp beer, Kolsch offers a very slight fruity flavor and aroma. It is light gold in color, with a delicate head; Weeping Willow Wit, which offers low hop bitterness and pours very hazy, with a light gold color. It has a bitter orange peel and fresh coriander that adds zest and depth; Sisters of the Moon that is made with American hops. It is light copper in color and has an intense hop aroma and strong hop bitterness.
Fayetteville's own breweries Huske Hardware House and the Mash House will also be on hand to offer some of your favorite local brews. Other breweries include Carolina Brewery, Big Boss, Brooklyn Brewery and Natty Greene's Brewing Company.
In addition to the beer, there will also be a wide variety of food vendors on hand including Huske Hardware, Two Brothers Grilling, YumYum Chicken, and vendors selling pizza, hot dogs and other beer-friendly foods.
While you sip and eat, you can also listen to a great line-up of blues musicians, many of who call Fayetteville home.
"It is a very laid back atmosphere," said Vallery. "Each year we get people out who love beer, love good music and love to have a good time."
While children are welcome at the event, Vallery said that there will not be any children's activities during the festival.
There are four levels of tickets:
The VIP Ticket is $35 and gives patrons an hour of private beer pour before the gates open. Each VIP ticket holder will also be able to enter the VIP tent and eat a picnic lunch provided by Huske Hardware.
The gate opens at 5 p.m. for other ticket-holders. Tickets are $25. There is also a non-drinking ticket for designated drivers and others who don't like beer but would like to enjoy the afternoon. That ticket is $15. There is also a children's ticket, which is $10.
"All of the money goes to the CFRT to support our annual productions," said Vallery. "This is our biggest fundraiser of the year."
The event runs from 5-10 p.m. Volunteers are needed, and all VIP tickets must be purchased before the day of the event. For tickets and more information, visit the website at www.cfrt.org.