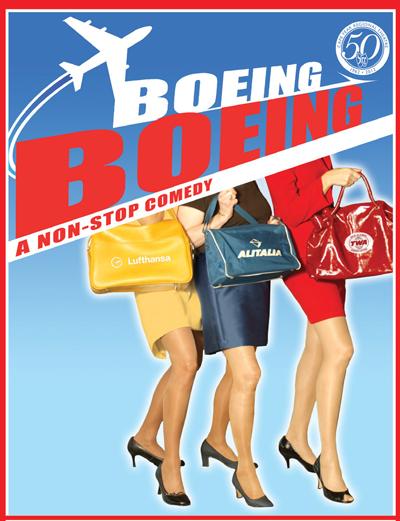 After interviewing the visiting artists performing in Boeing, Boeing at the Cape Fear Regional Theatre, I knew it was a show that had the potential for great comedy. I am happy to say, they didn't disappoint.
Boeing, Boeing is the story of an American in Paris who is looking for love amidst the airline timetables. The premise is that Bernard, played by veteran actor Gil Brady, is an architect working in Paris. Bernard, a man-about-town, makes friends with a man who works for the airlines. His friend helps him fi nd lonely stewardesses who are also looking for love. Instead of fi nding love ever after, Bernard fi nds love with whoever is on the ground — winding up with three fiancées.
The fiancées are played by veteran CFRT performers Nicki Hart and Rebekah MacCredie, and West Hollywood-native Case Kalmenson. The three are Italian, German and American, respectively. Each brings a unique dimension to the performance, but MacCredie, a Hope Mills kindergarten teacher, had a particularly strong performance on opening night.
Patricia Cucco, who may very well be the leading funny lady of the CFRT family, rounds out the female cast, playing Berthe, Bernard's maid and social director. It is up to Berthe to make sure that the apartment is ship-shape when each of the fiancées arrive. She does everything from changing out pictures and flowers to cooking favorite meals. Cucco's comedic timing is sheer perfection, and her physical comedy adds much to the performance.
Brady, as Bernard, brings a bit of Jim Carrey to the stage as he struggles to hold all the pieces of his life together when all of his fiancées arriveat once.
While the cast as a whole shines, R. Bruce Connelly steals the show. Connelly, who has played Jim Henson's Muppet dog Barkely on Sesame Street since 1993, was absolutely brilliant.Connelly plays Robert, Bernard's visiting friend. As the never-been kissed, Wisconsin introvert, Connelly draws you in, and then leaves you laughing in the aisles with a mixture of physical comedy and dead-pan timing.
The CFRT made a great choice in staging Boeing, Boeing as the fi rst performance of its regular season. Bo Thorp, the director of the show, picked an excellent cast, and when you understand they put the show together in just under two weeks, you realize what marvelous talent these six actors possess.
The show runs through Oct. 9, so book your ticket now. For tickets and times, visit www.cfrt.org.
Photo: Boeing, Boeing is the story of an American in Paris who is looking for love amidst the airline timetables.