There are few things sweeter than a new baby — and few things more heartbreaking than a baby in crisis. Thankfully, the March of Dimes is there to advocate, educate and assist in these situations. Each year, the March of Dimes–Cape Fear Division hosts a Signature Chefs Auction to raise money for the March of Dimes and to raise awareness about its mission and the services it provides.
This year the event takes place on Oct. 7 at the Embassy Suites Fayetteville/Fort Bragg's Richard M. Wiggins Conference Center. Chefs from several of the community's finest restaurants come together to create an unforgettable evening of fine dining. Chef Russell Neff from Highland Country Club,Chef Julio Camberos Jr. from Embassy Suites, Chef Beth Shearin-Smith from Hilltop House, Chef Joey Meyers from Blue Moon Café, Chef Mustafa Somar from Sherefe´, Chef Tommy Randall from Hilton Garden Inn, Chef Bill Pannhoff from B&B Catering and Event Planning, Chef Daniel Fair from Pierro's Italian Bistro and Chef Tommy Hinshaw from Morgan's Chop House have accepted the challenge and are ready to impress dinner guests with their culinary skills.
Some of the meals include pan-seared fillet medallions, shrimp chowders with toasted baguettes, beef short ribs and a raspberry dessert. The chefs are competing for trophies (provided by Trophy House) and bragging rights for the title of best appetizer, best entree´, best dessert, best overall and people's choice. While it's not required, Catherine Heindselman, March of Dimes-Cape Fear Division director said that many of the chefs are in fact preparing all three courses for the event.
The theme this year is Bon Apetit for Babies. "This is a purple tie event," said Heindselman. "The purple is for preemies and the dress is semi-formal."
The evening starts at 5 p.m. with cocktails; food tasting begins at 5:30 p.m.
The evening also includes a silent auction. Up for bid are a ZipQuest adventure, a necklace valued at $5,000, along with other jewelry, a week at a cottage in Holden Beach, N.C., several musical instruments including a guitar and a drum set, a golf bag and accessories, a basketball signed by Shaquille O'Neal and a package from Shelton vineyards. Perhaps the piece de resistance of the auction is the culinary experiences hosted by the signature chefs. The chefs have put together fabulous dining packages for the auction. B&B catering will come into your home if you like, the package includes a seven-course dinner for six with wine pairing. Dinner at Highland Country Club and Hilltop House, complete with several courses are also offered by the respective chefs.
"The businesses in this community are incredibly generous," said Heindselman. "They have given so much in support of this cause."
The event usually sells out, but there are a few tickets left. With 250 guests expected, Heindsleman hopes to raise $70,000 or more for the March of Dimes. While the March of Dimes is a national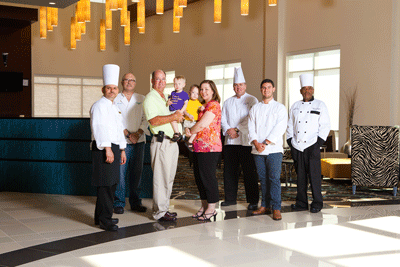 organization, the money raised here does come back to support the community. "Last year in North Carolina March of Dimes raised $5 million," said Heindselman. "And $5.7 million came back to us. The money comes back here. Locally we fund programs at Womack Army Medical Center and Cape Fear Valley. We have a regional-programs coordinator who does education and tutoring to healthcare providers. We also have a high-school program."
Many of the preconception programs funded by the March of Dimes focus on making sure that women are in good health before they conceive to help ensure a healthy baby.
This year's ambassador family for the March of Dimes-Cape Fear Division is the Cooper family. Beverly delivered twins Brendan and Cameron four months early and both boys had serious hurdles to overcome, including a collapsed lung for Brendan and a ruptured intestine for Cameron. The boys fought hard, and today they are healthy and happy. Brendan and Cameron are 2 now. "They were born at 23 weeks. They were so, so early," said Heindselman. "They had some struggles and spent five or six months in the Neonatal Intensive Care Unit. Today they are doing amazingly well."
Their parents Laurin and Beverly credit the March of Dimes for helping to make it possible. The Cooper family will be there the evening of the event sharing their story.
In 1938, President Franklin Roosevelt created the National Foundation for Infantile Paralysis. The foundation supported research for the vaccines that Dr. Jonas Salk and Dr. Albert Sabin developed, which effectively ended polio in the U.S. Next the organization turned its focus to the prevention of birth defects and infant mortality.
Through research, education and support, the March of Dimes helps thousands of families every year. About 1 in 8 babies are born too early every year. In the majority of cases, no one knows why. A woman can do everything right and still not carry to term. "Our biggest challenge now is figuring out why this happens," said Heindselman. "We are hoping to be able to fulfill our mission again and put and end to pre term deliveries."
The encouraging news is that there has been a decline in the premature delivery rate in recent years. "There is still a long way to go," said Heindselman. "One of the things we are excited about is that every single state and Puerto Rico and the District of Columbia have signed the challenge by the Association of State and Territorial Health Officials to reduce pre-term birth by 8 percent by 2014. That will be minimum of 21,150 babies who will then be born full term instead of coming too soon."
Heindselman sees this event as a way to have a great time and make a difference. To find out more or to purchase tickets, call 9104833691 or email cheindselman@marchofdimes.com or visit www.marchofdimes.com.northcarolina/events. Tickets are. $75 each or a VIP table for eight costs $1,000.