A month filled with pumpkins and ghosts, October is known for both fright and fun. Whether your aim is a scary adventure or a pleasant family hayride, Fayetteville offers several fun October events, with something for people of every age.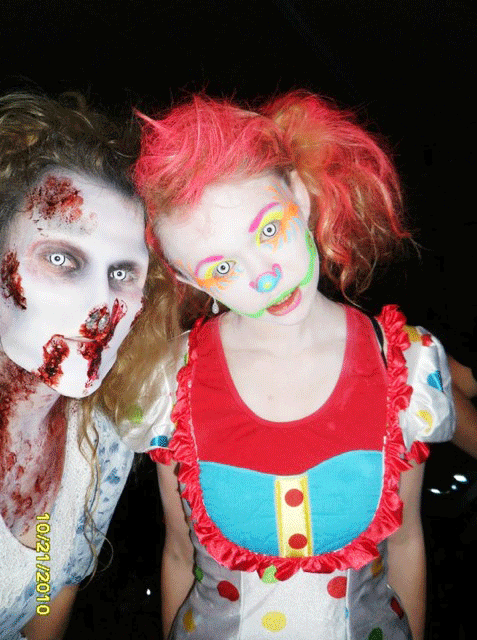 At Arnette Park there will be an open air hayride to Marlow Manor and a haunted trail. The ride is one-mile long and Marlow Manor is the park's haunted house. The house is intended to be frightening and is not recommended for small children. It costs $2 per person and is on Oct. 26 and 27 from 7 to 9 p.m. both nights. For more information call 433-1547. In the event of inclement weather, call 306-7325. Arnette Park is located at 2165 Wilmington Hwy.
Another popular October event is the Stoney Point Fire Department's annual Trail of Terror. Using talented local high school students as actors and incredible room designs and props, the land surrounding the fire station is transformed into terrifying maze. This trail will operate every weekend in October and on Oct. 18, 25, and 28-31. The trail will be open from 8 p.m. until 11 p.m. Admission is $12 and the event is not recommended for children under 12. For more information call 424-0694. The fire station is located at 7221Stoney Point Rd.
Sponsored by the Fayetteville Dogwood Festival, Historic Hauntings showcases the town's most infamous criminals. The Historic Hauntings: Ghastly Ghost Tour is an hour-long tour that takes passengers through downtown Fayetteville revealing stories and personalities from the city's past and even through the Cross Creek Cemetery — by torch light. Fayetteville's haunted history ranges from Civil War soldiers to a murdered police chief and a female serial killer. There's no telling what spirits may join the tour, but education on the eerie adventure is guaranteed. Reservations are required for this event, and the price is $15. Tickets for the hayride can be purchased by calling 323-1934 or online through etix. The departure point is 225 Dick St. it is recommended to arrive a few minutes early. The tour will run Oct. 18-20 and 25-27.
Basements by nature are creepy, and like a fine wine age only improves them. The Heritage Square Haunted House is a guided tour through the basement of the Woman's Club. For $5, patrons will be allowed to explore arguably the creepiest room in town. This damp and eerie basement located in the Sanford House is known for its haunting. Tickets can be purchased by calling 323-1934. The tour will be available Oct. 18-20 and 25-27 from 7 p.m. to 10:30 p.m.
On Oct. 31 from 2 to 3 p.m., the region's haunted past will be revealed through stories. Fayetteville is an area soaked with both history and legend, all of which will be revealed at the Ghosts of the Sandhills event at 631 Sherman Dr. at the J. Bayard Clark Park and Nature Center. Admission is free and the event is open to the general public. More information is available by calling 433-1579.
The Hallow's Eve Cemetery Walk is a combination of charity and creepy. For $10 Bruce Dawes, Fayetteville's historic properties manager, will guide patrons on a one-hour tour through Cross Creek Cemetery. To make the walk even scarier, the only light provided will be candles. On the tour Dawes will explain all the chaos, murder and mayhem that lead the unfortunate demise of key residents buried in the cemetery. Additionally, all the proceeds generated by this event will be donated to the restoration of the horribly vandalized headstones of the Cross Creek Cemetery. Tickets must be purchased in advance and are available at The Fayetteville Dogwood Festival office which is located at 145 Person Street, or by calling 323-1934. This event takes place on Oct. 30.