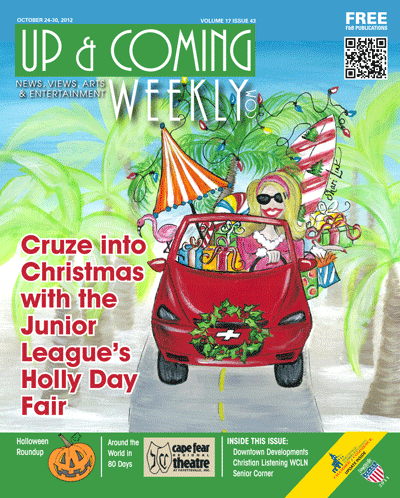 Holiday shoppers take note, the Holly Day Fair is right around the corner. This year, the largest holiday gift and craft show in Eastern North Carolina is scheduled to be at the Crown Expo Center Nov. 1-4.
Every year more than 22,000 people flood the Crown looking for unique deals and one-of-a-kind items. More than 200 vendors are on hand every year providing high-quality gifts that you won't find at the mall or big-box stores. Selections include both hand-crafted and manufactured items that range from jewelry to clothes to toys, specialty food items and more. The Holly Day Fair gets bigger and better each year, and word gets around. The event organizers anticipate bigger crowds each year, too.
"We have bumped up our advertising and are expecting shoppers from as far away as South Carolina," said Juelle McDonald, marketing chair. "We hope to have a good turn out."
It is the perfect opportunity to get an early start crossing names off your holiday shopping list — or pick up something fabulous for yourself and indulge a little this holiday season. For many the Holly Day Fair is the beginning of the holiday season, even more so than Thanksgiving or Black Friday.
"One of my favorite things about the Holly Day Fair is that it puts me in the holiday spirit," said McDonald. "I love the excitement, the energy and knowing that the most exciting time of year is here."
Holly Day Fair Chair Kelly Myers says that the vendors this year are something worth getting excited about.
"We have some of the old favorites as well as great new vendors this year. People just love Southern Supreme Fruitcake, and New Deli was a big hit last year, too, and they will both be back."
Also on the list of favorites is Girlees and Brother and great kids clothing and gifts from CP Kidz. New vendors include Beehive Girls.
"They do great cards for any occasion, not just weddings and birthdays, but even cards like 'Happy Monday,'" said Myers.
Kiwi Cottage is also a new vendor the organizers are excited about. Local new business Wine and Design will be on hand
"We have some home décor businesses that we are excited about, too," said Myers. "Creative Accents, which is a local business, is joining us this year. Another new booth is Green Side Up Garden and Gifts. They will have everything from gifts to gourmet accessories.
Awesome finds are a good thing, indeed, but shoppers get more than a chance to find treasures at the Holly Day Fair. There are some amazing raffle prizes to be had. Fully decorated, themed Christmas trees are up for bid. Last year the trees were a big hit and went home with some lucky winners.
"The trees were a big favorite last year," said McDonald. "The shoppers were so impressed that we decided to carry on that tradition this year." Mixing things up a bit, there will be another big raffle prize — a Chevy Cruze from Reed Lallier Chevrolet.
"We wanted to try something different and it has been a while since we raffled off a vehicle," said McDonald. "We are excited to offer this to everyone."
The Junior League of Fayetteville hosts this event every year and while it is a fantastic event for shoppers, there is something bigger at play.
"One of the most exciting things about the Holly Day Fair is that the money goes right back into the community," said McDonald. The Junior League of Fayetteville is committed to "promoting voluntarism, developing the potential of women and improving communities thought the effective action and leadership of trained volunteers. Its purpose is exclusively educational and charitable."
The Junior League of Fayetteville serves the community in many ways. Done in a Day (DIAD) projects create things like playgrounds and safe havens for women and children. It supports organizations in the community with causes including mentoring projects, child advocacy, consumer credit counseling, education and prekindergarten programs.
Child mental health is a major focus of the organization as well. By partnering with community organizations the Junior League of Fayetteville helps to change the lives of children for the better by improving "… family communication/education/support for caregivers of children 0-18 years with mental health issues by providing wellness, social competence and resiliency."
What better way to start the holiday season off right than by shopping for a good cause? This way everybody wins.
Holly Day Fair hours are Thursday, 9 a.m. - 12 p.m. for super shopper hours. Admission for super shopper hours is $14. There are limited tickets, which means fewer shoppers. There are huge aisles, and of course, great shopping!! No strollers. The fair is open Thursday, 12-8 p.m.; Friday, 9 a.m. to 8 p.m.; Saturday, 9 a.m. to 8 p.m.; and Sunday, 11 a.m. to 5 p.m. Tickets costs $9. Admission includes parking. Children 5 and under get in free!
Find out more about the Holly Day Fair and the Junior League of Fayetteville at www.jlfay.org.