The Fayetteville FireAntz have gotten off to one of the best starts to open their season in team history and there are many who have noticed. Averaging more than 4,000 fans per game at the Crown Coliseum, the FireAntz are bringing exciting hock-ey action back to the ice in Fayetteville.
The FireAntz have a lot of exciting games coming up and you'll want to make sure to mark your calendar and bring your family and friends to the games.
Thursday, Nov. 22: A Thanksgiving Tradition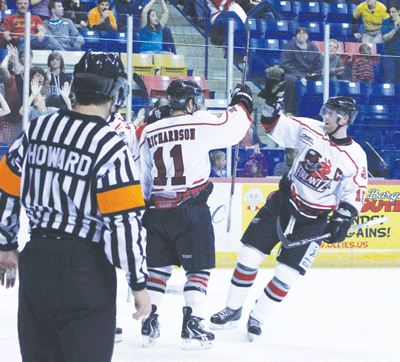 There is much to be thankful for this Thanksgiving sea-son — family, friends and the FireAntz having a home game on Thanksgiving night. The FireAntz have hosted a game on Thanksgiving each season and it has become a Fayetteville tradition. Have a wonderful Thanksgiving day with your family and loved ones and then bring them all to the FireAntz game and cheer along with your FireAntz family.
The best way to enjoy the Thanksgiving night game is to get cheaper tickets, of course. In order to do that, fans should get a group of family and friends, 10 or more people, and pre-order tickets from the FireAntz office. The savings are great and it's just a little something extra to be thankful for during Thanksgiving.
There is one other thing to be thankful for on Thanksgiving with the FireAntz. Long time rival, the Knoxville Ice Bears, will be their opponent. The former Southeast Hockey League (SEHL) foes have one of the longest rivalries in league history and when the two teams collide it's always a really exciting time for the fans. In their only meeting on home ice this season the FireAntz beat the Ice Bears 4-1, in exciting fashion, in front of 4,341 cheering fans.
Saturday, Nov. 24: Kids Night brought to you by Lee Hyundai
The FireAntz are hosting Kids' Night on Saturday, Nov. 24. The best part about it is that tickets for children will be free if they redeem their vouchers. Vouchers for free children's tickets will be sent to schools in Cumberland County and, when redeemed, can be traded for free kids' tickets to the FireAntz game.
Adding to the theme of Kids' Night is the fact that the FireAntz are having Mascot Night. More than 20 mascots from various sports teams, school and businesses will be on hand to entertain. It's sure to be a fun night for kids of all ages.
Saturday, Dec. 1: Military Appreciation, Operation Toy Drop Celebrated
The FireAntz, once again, will host Military Appreciation night as they host another long time rival, the Huntsville Havoc. For the third consecutive season they will team up with military from Fort Bragg for the 15th annual Operation Toy Drop. Fans are encouraged to bring new, unwrapped toys to the game for donation to Operation Toy Drop — an airborne operation that collects thousands of toys annually for area children and families in need of a little help during the holiday season.
Fans can donate toys even if they are unable to attend the game by dropping a toy off at the FireAntz office at 220 A N. McPherson Church Rd. or by visiting www.op-toydrop.net to find locations of local drop boxes.
Many of the FireAntz corporate partners take part in the night and fans and season ticket holders always come out in large numbers to join them as they show their support to the men and women of the armed services for all of their sacrifices. Military Appreciation nights have, over the years, attracted the largest audi-ences and are guaranteed to be a great time.
Make sure to come out to the Crown Coliseum and join in on the excit-ing season for the FireAntz this year. For more information on the FireAntz, or to purchase group tickets at a re-duced rate visit the FireAntz Website at www.fireantzhockey.com.
Photo: Join the FireAntz for a series of fun-filled events this season.