Christmas is a special time of year filled to the brim with traditions. One of the most popular and beautiful traditions around America is the hanging of Christmas lights. People often cruise around town in the evenings to compare and observe the various festive displays. This year Lu Mil Vineyard is offering a different option for lights — its annual Festival of Lights.
Located in Dublin, N.C., Lu Mil Vineyard is a 58-acre vineyard that was opened by the Taylor family in 2005. The vineyard was born out of innovation and has always been a site used to test new equipment and ideas. The vineyard produces muscadine wine, a grape native to North Carolina, but the gift shop and tasting facility is incredibly multifaceted and completely family friendly. The shop also offers jellies, jams, alcohol-free wines, juices, ciders, sauces, syrup and even grape seed extract pills.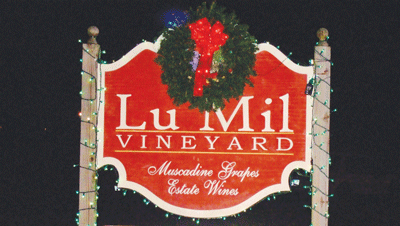 During the Festival of Lights there is even a country buffet. "The Country Buffet is also offered every night that the show runs at $10 (plus tax) per person. It includes several meats, vegetables, salads, breads, desserts, tea and coffee. It is first-come, first-served with no reservations taken, but a lot of times, last year, we would suggest to groups to be there to eat at 5 or 5:30 p.m. and they could all eat together that way and then do the light show after the meal. The later in the evening — and the season — the busier it gets," said Denise Taylor Bridges, owner of Lu Mil Vineyards.
The Festival of Lights is far more than just a collection of lights in the middle of a field. Bridges says "…the Festival of Lights is a drive-through light show with hundreds of thousands of lights synchronized to music to create a Christmas production for the entire family. Our vineyard is a beautiful place year round but it seems almost magical the way it is transformed into a winter wonderland with lights, music, the aroma of delicious food and our hot muscadine cider. For the kids, there is the candy store, Santa, muscadine slushies, animated figurines, the nativity scene and Kiddie Land, which offers great photo opportunities."
This is the sixth year of the light festival, and it has grown every year. "We opened the vineyard in December 2005 and decorated a few trees and just hung a wreath or two that year and added a few lights the next year. We found that people would come by the vineyard just to ride through and see how pretty everything was decorated for this wonderful time of the year," said Bridges. "So the next year we added lights to some of the buildings, the grain bins, the bridge, added a few animated items, etc. and we have continued to add venues, cabins and other features at Lu Mil over the last few years and now they are part of the Festival of Lights. It grows every year … more lights, different scenery and music every year. Our newest addition is the candy shop. It is located next door to the General Store (where the Country Buffet will be served)."
The show opens on Saturday, Nov. 24, and runs every Thursday through Sunday through Dec. 9 and nightly beginning Dec. 13 thru Dec. 23. The light show runs from 6 to 10 p.m. and the Country Buffet is open from 5 to 9 p.m. Admission is $10 per car (1-4 persons), $20 per van (5-11 persons) and $40 per bus (12 passengers or more). The vineyard also rents out a double-decker bus for $5/person with a minimum of 20 people in order to reserve it. Lu Mil Vineyard is located at 438 Suggs-Taylor Rd. Elizabethtown just off Hwy 87 in Dublin. For more information, visit www.lumilvineyard.com or call 866-5891.