Kicking off the New Year
We are kicking off the new year with a great variety of new music!
Audio Adrenaline is back with a new lead vocalist (Kevin Max, formerly of DC Talk) and a fabulous new radio single. "Kings & Queen's" is "just an incredible song about this idea of when we love the least of these, God wraps these little orphans in his majesty and they can become kings and queens," shares Mark Stuart. "It gives you that idea that these are God's favorites, these little kids who have been forgotten. It's just a triumphant, majestic song that just connects so deeply with Hands & Feet and the message of Audio A right now."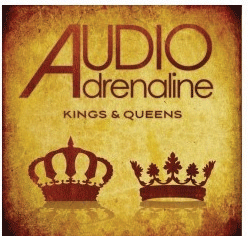 So what is the Hands & Feet Project? Five years ago, the band gathered in Hawaii along with their biggest fans for what they thought was their last perfor-mance. Since that emotional finale concert, founding members Mark Stuart and Will McGinniss have tirelessly worked to raise awareness and support for 100 orphans currently being cared for in orphanages in Jacmel and Grand Goave, Haiti. The official music video was taped in Jacmel, Haiti at the Hands & Feet Project Children's Village.
Another veteran band with a new look is Hawk Nelson. New front-man Jon Steingard shares his thoughts on the newly released single from their upcoming project. "'Words' really speaks to the heart of what God's been teaching us as a band over the past few months. The words we speak are a powerful testament to who we are and how we influence those around us. We truly have the power to either speak life into others or break them down depending on the choices we make. It's been our prayer as a band to say to God that we want to be His light … that we want to speak His love into people's lives every day. Whether that means being on stage and playing shows, or whether that's with our wives, families or friends, we just want to be really intentional about speaking life into people. We were so honored that Bart from MercyMe agreed to be a part of this song as well. He was actually monumental in encouraging me to step up as the new lead singer for Hawk Nelson. It's been really cool to see God directing the whole thing as it came around full circle and we're stoked with how 'Words' turned out!"
There is also another new thought-provoking tune from Sidewalk Prophets. Co-writer and lead vocalist Dave Frey says, "'Help Me Find It' was written after a conversation with a close friend of mine. We were talking about how hard it is to be patient in life, and how equally hard it is to go when God calls us to go…our fears of uncertainty and failure consume us. God is in control. We have to be patient and wait for God's timing, and, in the same breath, we need to trust God enough to venture out and chase down life's dreams when he calls us to go. 'Help Me Find it' is a prayer for God to give us the wisdom to know his great desire for our lives" J
ust a few of the newest songs you'll be hearing from some of your favorite artists in this new year.