Winter Jam Comes to the Crown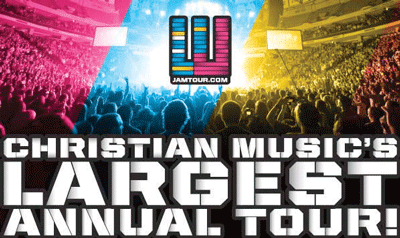 The Buzz this week is all about the Winter Jam Tour Spectacular 2013. Winter Jam is returning to the Crown Coliseum in Fayetteville Thursday, Feb. 7. Here are a few things you will need to know to be prepared for an amazing evening!
First, arrive as early as you can. The doors open at 6 p.m., but since the admission is just a $10 donation at the door (unless you purchase a JamNation membership*) you will want to be in line well before then. Bring water, snacks and maybe a group-oriented game to help pass the time. You'll also need ear plugs (it will be loud) and some cash for food and art-ist merchandise.
The concert officially starts at 7 p.m., but the pre-jam party really gets things going around 6:30 p.m. with new bands Capital Kings and OBB. American Idol alum Jason Castro will round out the Pre-Jam experience.The lights go dim at 7 p.m. and the show takes off with a few fun tunes from Jamie Grace like "Hold Me" and "You Lead." Sing along to the in-sightful ballads from Sidewalk Prophets: "The Words I Would Say," "You Love Me Anyway" and the new one "Help Me Find It." Then be ready to "Make A Move" with Royal Tailor!
Newsong, your hosts for the evening and the founders of Winter Jam, will inspire with "The Same God", their new radio single "Swallow The Ocean" and the classic "Arise My Love" among others. Once your vocal chords are warmed up you will sing along with Matthew West and his wonderful story-songs like "Strong Enough," "My Own Little World," and his latest, "Forgiveness."
Speaker Nick Hall will vividly present the life one can have with the God spoken about in the songs being sung. Then, for the rockers in the house, Red will pump up the decibels and the pyrotechnics! Finally Toby Mac and Diverse City will close the evening as only they can with tunes such as "City On Our Knees," "Lose My Soul" and the new one, "Steal My Show."
It's the largest Christian concert that will come this way all year; 10 bands for only $10 at the door!
*If you want a guaranteed seat with some bonus benefits, details on the Jam Nation memberships is available at www.jamtour.com.