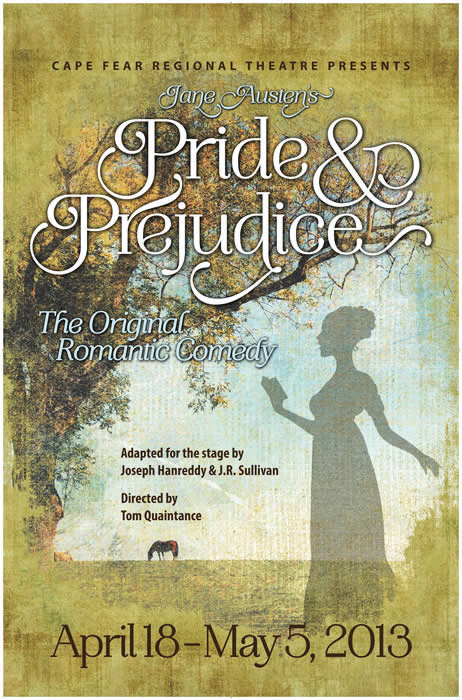 Set at the turn of the 19th century, Pride and Prejudice remains near the top of the "most loved books" in the world. The story, which explores the social issues of manners, upbringing, education and marriage in England, remains relevant and intriguing today. That's one of the many reasons, the play was added to the season at the Cape Fear Regional Theatre. And, over the next two weeks, the theatre invites you to step back in time and enjoy this classic story as Pride and Prejudice comes to the CFRT stage.
"I love this story," said Tom Quaintance, artistic director of the CFRT. "In a season where 'Great stories told here' was the guiding principle, Pride and Prejudice was an obvious choice for the season. This is one of the great romantic stories of all time."
Quaintance said the story becomes real and remains relevant because of the strength of the characters that people it.
"There are such great characters in this story," he said. "And one of the things we do well, is to produce shows that give us the opportunity to highlight the talent within our community and this show allows us to do that. We started the seasons with the modern, political story of Jesus Christ Superstar, so ending it with the faithful telling of this beloved story gives the season great balance."
Quaintance explained that there are a number of adaptations of the book for theatre, but he is particularly fond of the version that will be staged at the CFRT.
"I love this adaptation. This is a very theatrical play, much like Around the World in 80 Days, this play demands the use of your imagination," he explained.
Quaintance said that Elizabeth Bennet, the main character in the play, only leaves the stage once, and scenes flow quickly from one to another.
"This gives us the opportunity to tell the story in a different way," said Quaintance. "It is also a very fast-paced story, where a character may talk about something and then you jump right into the middle of it."
The period setting lends itself to a faster pace. Within 20 minutes of the play's start, six or seven period dances happen. Quaintance said that it has been a lot of fun researching and integrating these pieces into the story. He noted that the story is very faithful to the period etiquette.
"This story has been told so many times that there is a lot to live up to," said Quaintance. "It's a great challenge."
The play opens on Thursday, April 18 and Friday, April 19 with two preview performances. These performances give the cast, many of whom are New York based, to work out the kinks in the show. The preview shows have special ticket pricing of $10. The opening on Saturday, June 20, includes a reception with the cast. For tickets and information, visit www.cfrt.org.