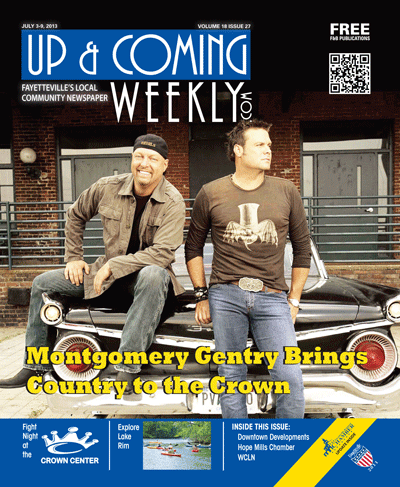 Monday through Wednesday, Troy Gentry is just an average guy. He fulfi lls the role of classroom dad at his daughter's school; attends her softball games and mows his own yard. But Thursday through Sunday, it's a different story.
Gentry, one part of the country power-house Montgomery Gentry, and his partner, Eddie Montgomery, have spent a lot of time on the road, but these days, they have altered their touring to mini-tours so that they can spend more time at home, taking part in the lives they've made instead of watching them from the road.
"We are basically doing what we call weekend warrior shows," said Gentry, during a recent telephone interview. "The hardest part about being on long tours is being away from family. In our younger years, it wasn't a big thing. The tour was one big party. We were meeting people and having a lot of fun. Now that our kids are getting older, we realize that we missed a lot. I have a child in college and my little one is 10. I'm trying to be at home more and do more things with her like sports, school and church."
On Friday, July 12, one of those weekend warrior shows will make a stop in Fayetteville, as the duo performs at the Crown Theater.
Montgomery Gentry is undoubtedly one of the greatest country music duos to ever hit the music scene. Known for their homegrown, Southern rock n' roll style, they have earned their spot among the ranks of other country artists over the past two decades. Responsible for smash hits "She Couldn't Change Me," "Gone" and "Where I Come From," their songs are instantly recognizable by anyone with an appreciation for country music.
Vocalist Eddie Montgomery and Troy Gentry were both born and raised in the Bluegrass state of Kentucky, which is steeped in a rich history of country music. They're familiar with what makes country music tick. Entering the mainstream with their debut single, "Hillbilly Shoes," it took the band little time to gather a strong following.
Their concerts can be described as a honky-tonkin', toe-tapping good time with a tinge of southern rock. Famous for their music, which echoes a working-class mentality, strongly rooted in God and everyday family struggles, the group has created a musical legacy that always rings true. to its roots.
Gentry, who says his Dad was into country and his mom rock and roll, said their music is a blend of the two.
"When we first started recording, we had more of a grittier, party-anthem type of stuff," said Gentry. "Today we go into writing sessions with a different outlook.It really reflects more of the environment that we are in now. We have always spoken to and sang about the working class — ups and downs of life — but we really try to find songs that affect us personally at a given moment or that people out there can identify with."
Originally known as Early Tymz, the band consisted of Montgomery, his younger brother John Michael Montgomery and Gentry. In the early 1990s, John Michael left the group and started a solo career. Eddie and Troy, the remaining members of the group, then went through several name changes before they decided to call themselves Montgomery Gentry. In 1994, Gentry won the Jim Beam National Talent Contest and he began to open for acts such as Patty Loveless and Tracy Byrd. Gentry was unable to find a solo record deal, so he teamed up with Montgomery once again to form the duo Montgomery Gentry, signing with Columbia Records Nashville in 1999.
Montgomery Gentry's first album, Tattoos & Scars, released in 1999, boasts 11 tracks that can be described as a homage to the blue-collar lifestyle. The album was received positively with Thom Jurek of Allmusic calling it "one of the best pop records of the year. Period." The album won Vocal Duo of the Year award at the Country Music Association Awards in 2000, but it didn't stop there. The vocal brotherhood won the Top New Vocal Duo or Group award from the Academy of Country Music and the 2000 Favorite New Artist in the Country category at the American Music Awards. Their first album went certifi ed platinum in 2001.
Like their second album name suggests, the band continued their success with Carrying On. The album's first single "She Couldn't Change Me" broke new ground for the group, reaching Number 2 in the country charts.
Their fourth album, You Do Your Thing, released in 2004, produced two number 1 country hits "If You Ever Stop Loving Me" and "Something to Be Proud Of." The album became their third platinum-selling album after Tattoos & Scars and My Town. The album's major success was followed up by their 2004-2005 tour with Trace Adkins.
Their latest album, Rebels on The Run, was released in 2011. Thanks to a new record label, they were allowed more freedom than previous albums that led to the album's first single "Where I Come From."
The group's dedication to country music earned them a Grammy nomination in 2008 for Best Country Vocal Performance by a Duo or Group for their single "Lucky Man." Montgomery Gentry has been nominated and won many awards for their continuing excellence in country music and their admiration of their millions of fans.
Fayetteville, being home to Fort Bragg and the 82nd Airborne Division, is no stranger to patriotism and military pride — neither is Montgomery Gentry. Supporting our troops has been a large part of their effort ever since their debut in 1999. But for the fi rst time in 2006, they were able to travel to Kuwait, Iraq and Germany as part of a USO Tour. Military personnel, active duty and retired alike, can appreciate the hard work this group has put forth to relieve the stress of men and women serving in our military with their tales of work, love, loss, spirit, life and patriotism balanced by the hard-partying nature of their songs.
They were awarded by the Academy of Country Music as the 2010 winners of its Humanitarian Award. In addition to supporting our troops, they are active in charitable organizations such as the T.J. Martell Foundation, Camp Horsin' Around and Make-A-Wish Foundation of Middle Tennessee.
Following the tragedies that have recently unfolded in Boston, Texas and Oklahoma, Montgomery Gentry has launched a campaign to recognize the everyday heroes that have helped to save a life or make a difference in the life of somebody affected by these disasters. The superstar duo being supporters of our military, teachers and other unspoken heroes, wants to give their fans a chance to submit their heroes for a chance to receive concert tickets and meet & greet passes to hangout with the group backstage at their concert stops this summer. To nominate a hero, type a letter explaining why you have chosen this person and submit your entry to MontgomeryGentry.com/heroes.
Perhaps one of their proudest achievements is being inducted into Nashville's Grand Ole Opry in 2009. Inducted by Opry members Little Jimmy Dickens and Marty Stuart, the two performers were left without words to express their gratitude and excitement for the historic opportunity.
Tickets for the show can be purchased online at TicketMaster through the Crown Center's website (crowncoliseum.com). The concert will begin at 8 p.m. on July 12