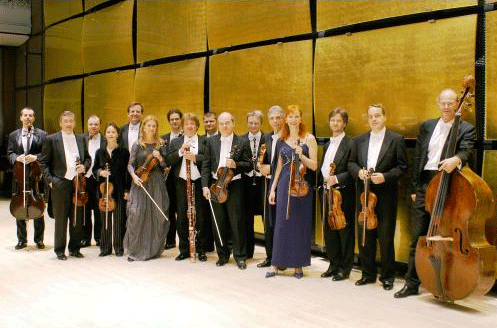 Old-world charm and an award-winning orchestra grace the Givens Performing Arts Center Stage at UNC Pembroke on Tuesday, Jan. 28. This American debut performance will feature the Vienna Concert-Verein Orchestra beginning at 8 p.m.
The Vienna Concert-Verein Orchestra has achieved international stature performing a subscription concert series at Vienna's Musikverein for more than 20 years. Members of the Vienna Symphony Orchestra founded the Vienna Concert-Verein in 1987. Its repertoire ranges from orchestral works of the Viennese classical composers to contemporary Austrian music. The Vienna Concert-Verein Orchestra's collaboration with contemporary composers is unique in Austria. Since its inception, the Vienna Concert-Verein Orchestra has given successful world-premiere performances of more than 65 works by contemporary Austrian composers in a high-profile concert series that has been running since 1993. The Vienna Concert-Verein Orchestra's CD releases are a tangible result of this duality in its programming.
In 2005, the Vienna Concert-Verein Orchestra's Michael Haydn's recording was nominated for the Amadeus Classic Award, category "Orchestra and Large Ensemble," competing with recordings by the Vienna and Berlin Philharmonic Orchestras. This CD features music by Michael Haydn (Johann Michael Haydn was an Austrian composer of the Classical period, the younger brother of Joseph Haydn), Leopold Mozart, Reinhard Süss and Jean Francais.
The orchestra has toured in Asia and Europe and is a welcome guest orchestra at music festivals and concert halls such as the Mozart Festival Würzburg, the Oldenburger Promenade Concerts, the Mozart Festival Augsburg, the Prague Autumn, the Vienna Klangbogen, the Haydn Festival Eisenstadt, the Santorini International Music Festival, the European Festival Weeks in Passau, at the Concertgebouw in Amsterdam and with the Berlin Philharmonie.
"This will be the first time the Vienna Concert-Verein Orchestra will perform on the Givens Performing Arts Center stage and we're excited to host such a talented and prestigious ensemble during their American debut. The orchestra features Grammy-nominated pianist, Sebastian Knauer, led by renowned conductor, Philippe Entremont," said Chad Locklear, marketing director, GPAC.
Upcoming events at the performing arts center include: Peter Nero in Concert, Friday, Feb. 21, featuring the quintessential jazz artist in a once-in-a-lifetime concert appearance marking the 50th anniversary of the birth of Peter Nero's recording career and the Russian National Ballet theatre presenting Giselle on Tuesday, April 1.
Make the evening complete by joining GPAC for an exquisite dinner prior to each of these performances. Prepared by Sodexo, the dinners are served in the Chancellor's Dining Room in the James B. Chavis University Center. Tickets cost $30 per person, which includes a wine and cheese reception prior to dinner at 6 p.m. Dinner starts at 6:30 p.m. Tickets are available through the GPAC office at 910-521-6287 or email: gpac@uncp.edu. Prices are $30, $25, $20 and $15 child or student /$5 UNCP Student / $15 Faculty or Staff/ $25 Alumni.
Photo: The Vienna Concert-Verein Orchestra is set to perform at Givens Performing Arts Center on Jan. 28