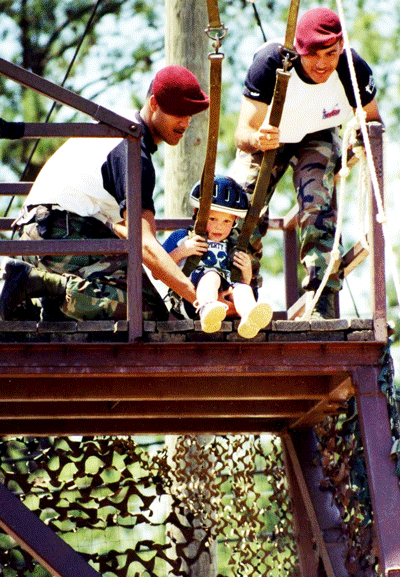 Funnel cakes, carnival rides and the children's jump tower can only mean one thing; it's time for the 22nd Annual Children's Fest! The fest will open at the Fort Bragg Fairgrounds on April 26. The event runs from 10 a.m. to 4 p.m.
Admission is $8 for access to carnival rides and prize drawings; adults and children under 36" are free. The event is open to the public.
The first 500 children to attend will receive a free T-shirt.
The Fort Bragg Fairgrounds are located off Bragg Boulevard across from Stryker Golf Course. Admission through a checkpoint is not required.
Attendees will enjoy children's carnival rides, a children's jump tower, climbing wall, face painting, as well as Pallabar the Clown and the Fort Bragg Fire Engine. Activities are planned throughout the day for children of all ages.
A large tented area with various toddler-friendly activities appropriately named, Toddlerville, will also be available for the young festival attendees. "Activities in the Toddlerville tent will give parents a unique opportunity to get involved in their children's world for a day and experience some of the activities the children do while attending their Child Development Center during the week. Children will have the chance to show their parents how to play and have fun," said Dorene Jenkins, Fort Bragg Child Youth and School Services outreach director.
Food vendors will be on hand with everything from hot dogs to funnel cakes. Drawings for prizes will take place throughout the day.
The Month of the Military Child was created in 1986 by former Defense Secretary Casper Weinberger to highlight the importance children play in the Armed Forces community. From deployments to new schools, military children face unique challenges that civilian children their age do not. The recognition of this month is meant to celebrate the resilience and strength of military children in dealing with these difficult aspects of military life.
Event Coordinator Gudrun Blackmon says, "For the past 21 years, Fort Bragg Child, Youth and School Services (has culminated April's activities with the Children's Fest. Historically, 3,000-3,500 people attend. In addition to age-appropriate carnival rides, the most popular activities have been the Kiddie Jump Tower and military static displays."
On Tuesday, April 15,people were asked to wear purple in support and appreciation of military children. Purple is the color that represents all branches of the military, as it is the combination of Army green, Coast Guard blue, Air Force blue and Marine red and navy blue.
Blackmon says, "The event would not be as successful as it always is without the unselfish support and assistance of the Fort Bragg Special Events Team, the Family, Morale, Welfare and Recreation Marketing Team, the outstanding sponsors in the Fort Bragg and Fayetteville area and most of all, the outstanding support from our Soldiers.
For more information about Children's Fest, please call 910-396-8110 or 910-396-5128.