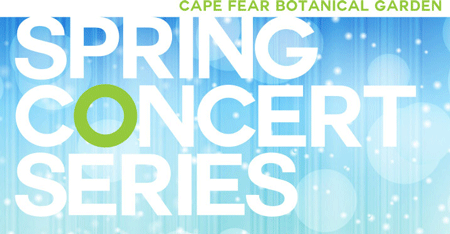 The Cape Fear Botanical Garden is far more than a beautiful piece of cultivated green space among the concert landscape. It is a sustainable garden and a center for culture and education. It all began in 1989 with a shared passion amongst a few gardeners. Since its inception at a kitchen table, the garden has grown into 79 acres with more than 2,000 varieties of ornamental plants. One way that the garden provides the community with cultural activities is through its annual Spring Concert Series.
The concert series is composed of four concerts, each featuring a different band. June 13 features classic rock performed by the Coconut Groove Band. "People can expect to have a terrific evening. The blending of live music performances and the beauty of the garden is a wonderful experience for our members and visitors. Gates open at 6 p.m., and the entertainment begins at 7 p.m. We encourage everyone to bring a lawn chair or blanket, find a spot on the lawn, get situated, purchase food and drinks and settle in for a relaxing time — although sitting is not required. Everyone is invited to dance or take a stroll along the paths and enjoy the music as it floats through the garden," said Meg Suraci, Cape Fear Botanical Garden marketing director.
The Coconut Groove Band is no stranger to Fayetteville. With a musical repertoire that includes easy listening, soul, rhythm & blues, Americana, rock n' roll, hard rock, pop, funk, blues, country, bluegrass and jazz, the band provides a fun evening of light-hearted entertainment.
The concerts are rain or shine events. Preferably, the music is enjoyed beneath a beautiful and clear night sky, but in the case of rain, the fun continues in the Orangery. After several years of practice, the garden staff has mastered putting on a great event for the community. "This is the garden's third year presenting the Spring Concert Series. We've learned by experience and have tweaked each event along the way. Our staff and volunteers have a pretty good handle on presenting a terrific event. One thing we can't control is the weather, but we don't worry about it," Suraci explained.
Tickets for the concerts cost $15 for non-members and $10 for members. Along with discounted concert tickets, garden member receive many benefits. "Cape Fear Botanical Garden offers events of incomparable ambiance with great music in a beautiful outdoor setting, as well as fun, safe and affordable evenings out for the whole family — it's something everyone needs to experience!" Suraci said. Members support these events and have greater access. For example there is free admission for a full year, special admission prices for workshops and events, and invitations to member only events. Additionally, $5 of every membership supports the garden's Endowment of Sustainability. Members support not only the garden, but also the garden's future.
The gates open at 6 p.m. and the concert begins at 7 p.m. Chair rentals are available. Food, beverages and wine are available for purchase. No outside food, beverages, coolers or pets are allowed. The garden is located at 536 N. Eastern Blvd. For more information visit www.capefearbg.org or call 486-0221.