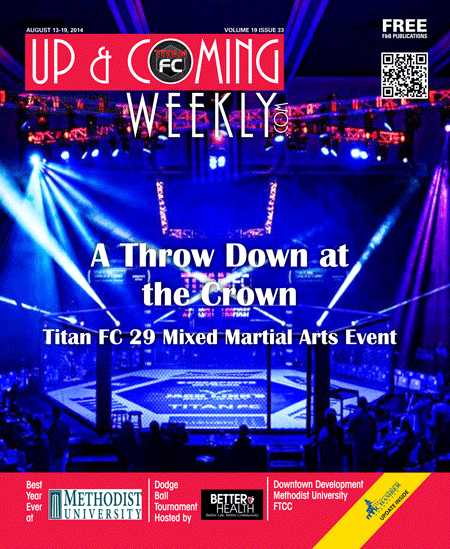 On Dec. 10, 2008, Fayetteville was the host to the Ultimate Fighting Championships' "UFC: Fight for the Troops" event at the Crown Complex. The event was broadcast live on Spike TV free of charge, a rarity at the time. The event was put on by the UFC to raise money for the Intrepid Fallen Heroes fund and featured 10 fights consisting of competitors that were all high caliber mixed martial artists. The fighters that were used were all up and coming contenders that were determined to put on a good show for the men and women of the U.S. Army who filled the arena.
Since that 2008 UFC card, Fayetteville has been in a bit of a drought when it comes to having high-level MMA events come through. While the UFC has remained at the top of the heap, other national promotions have sprung up like: ElitrXC, Strikeforce, Affliction, Bellator,and a few others. Even with all of those promotions springing up, the city still seemed to find itself overlooked in getting the "big time shows." The city did manage to attract and host a few smaller regional shows, like the recent FightLab show that came through, but the big national promotions seem to constantly skip over the Fayetteville area. All of that changes on Aug. 22.
On Aug. 22 at the Crown Complex, Titan Fighting Championships will hold its TitanFC 29 MMA event; the event will also air nationally on CBS Sports Network.
On that night, fans in attendance will see an undercard featuring local fighters like Blaine Thomas, originally from Laurinburg, and D'Juan Owens from Durham. Also on the card are MMA prospects on the rise, like Keith Johnson from Alabama, who look to inch their way closer and closer to the top of the sport. The top of the card will consist of matches between seasoned veterans of MMA Kurt Holobaugh and Lloyd Woodard who will fight for a future shot at the Titan Featherweight 145 title. Also UFC veterans Mike Ricci and George Sotiropoulos will fight against each other as they work towards their goal of getting back into the UFC. The main event of the night will feature a match between two MMA veterans, Ben "Killa B" Saunders and Jose "Pele" Landi-Jons for the Titan Welterweight (170lbs) Championship.
Jeff Aronson is the owner and driving force behind Titan Fighting Championships, or Titan FC as it is known by fans. Aronson purchased the promotion at the turn of the year, but his roots in MMA run much deeper. Aronson got his start in MMA in his teens training with Renzo Gracie's Brazilian Jiu-Jitsu Academy in New York as a form of self-defense. Years later, Aronson would use his love for the sport to motivate him to partner with friends Lex McMahon, Nima Safapour and Hip-Hop music pioneer MC Hammer to form Alchemist Fight Management.
Alchemist Management would grow into a successful fight management company serving a large number of the top tier talent in MMA. Aronson proudly points out; "Alchemist Management is one of the largest and most powerful MMA management companies in the world."
Why would a man like Aronson leave such a successful and powerful business to try and put on fights? For Aronson, the answer to that question is directly related to his time as a manager of fighters. "We (Alchemist) would sign all of this incredible, high-level talent and I would have nowhere for them to fight… Everybody's aspiration was to get into the UFC, but if you are sub 5 fights, or let's say you were a guy in the UFC that got hurt or you got cut, whatever the case maybe that the UFC released you, it was almost impossible for you to get back in because no one wanted to fight you. After dealing with this for some years now, I felt that it was time to create my own promotion to fill that need. Titan was a regional promotion out of Kansas City… I bought them and we did our first show in Kansas City, then one in Oklahoma and the next one is in Fayetteville."
When asked why he chose to bring his fight card to Fayetteville when so many others had overlooked the area Aronson said, "I love the Fayetteville area, I love that Fort Bragg is right there. My longtime business partner is a retired Marine, we are also
partners with the A HERO Foundation… we are very military oriented. So, with Fort Bragg being right there and with no major fights being in that part of the country for so long, we looked at it and said this is a natural, how can we not do this?"
Aronson also offered up the surprise, "Should this event go off like I think it is going to go off… I would like to make Fayetteville one of our primaries. Every six months or every year or something we do a show there."
Aronson described what fans can expect from him and Titan, "I'm doing this for them (the fans). I'm putting on a card that is so stacked from top to bottom. Even if you are not a MMA fan and you are curious and you want to see a show live and you want to see an incredible sporting event live, this is something you should go see. This truly is for the fans and I hope that everybody comes out and supports us. I think it is going to be a blockbuster event. We are going to be doing giveaways and all kinds of fun stuff leading up to the fights. I hope that everybody comes out in support so we can do shows in Fayetteville all of the time."
Welterweight title contender and main event fighter Ben "Killa B" Saunders sums up why fans should come out in saying, "If you have never seen a live MMA show, this is definitely one to go to. The entire card is stacked with studs; UFC veterans, Bellator veterans… It is a very high quality show that Titan is putting on. If you need an introduction to MMA, this is definitely the show to go to."
Tickets for the event are available through Ticketmaster and at the Crown Complex Box Office.
Photo: The Titan FC 29 is set to bring a smack down to the Crown. It's an event MMA fans won't want to miss.