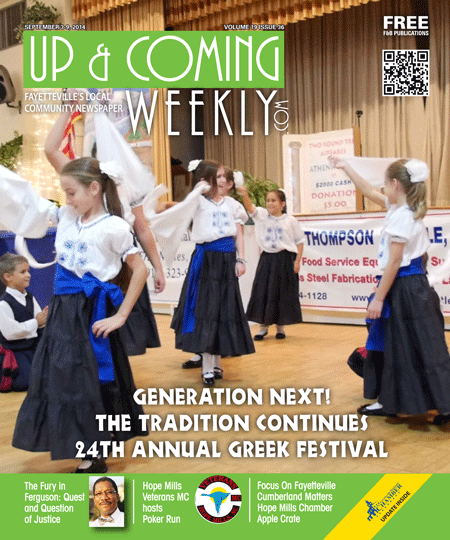 If you had your choice of sitting at home and watching TV or dancing and laughing and learning about one of the oldest cultures in the world, which would you choose? If you're smart, you'll choose the first option and head out to the 24th Annual Greek Fest at Sts. Constantine and Helen Greek Orthodox Church, which organizers promises will be big-ger and better than before. So grab your keys and kin and be Greek For a weekend!
The Greek Fest, a much awaited and loved event in Fayetteville, will begin at 11 a.m. on Friday Sept. 5 and will run through 6 p.m. on Sun-day, Sept. 7. For three fabulous day, you can soak yourself in the traditions and history of our Greek neighbors, and in case we haven't mentioned it, you can all fill yourself to the brim with some of the best Greek food in town.
For the Greek Community, the Greek Festival serves a two-fold purpose. First, it allow the com-munity to share the culture, history and heritage of their people through food, music and dancing, as well as their Greek Orthodox faith. Second, it raises funds to help numerous charities within the community. The Greek Community looks at it like being good neighbors.
Not only are they good neighbors, they are also great hosts! John Batzolas, a mem-ber of the Greek Fest Committee, explained, "We are going to have Greek food, Greek dancing, a live Greek Band and a Greek marketplace."
He noted that the food, all lovingly made by the members of Sts. Constantine and Helen, is one of the biggest draws. Community residents flock to the church in droves to taste the succulent dishes, and of course, to get their hands on the fresh-baked pastries.
Batzolas noted that the annual baking of the pastries is a community affair.
"Most of the ladies from the church come together and pitch in to bake the goods before the event," he said.
The love and care they put into their baking is greatly appreciated by the people who line up to not only sample while they are there, but also to take it home.
This year, as in year's past, there are two food lines; one line offers a full, traditional Greek meal, while the other offers typical Greek snack food like gyros or pitas. (The baked goods are sold separately. ) Batzolas cautioned that Friday lunch will offer a limited menu; however, come Friday night, the festival is in full swing.
In addition to the food, visitors will also have the opportunity to visit a Greek Marketplace, where they can find the typical things found in a Greek store. After you've shopped there, you can step over to the Greek grocery store, where you can purchase products found in Greece from olive oil to ouzo and from Greek wine to nuts, as well as water and soft drinks and Greek wine to comple-ment your food..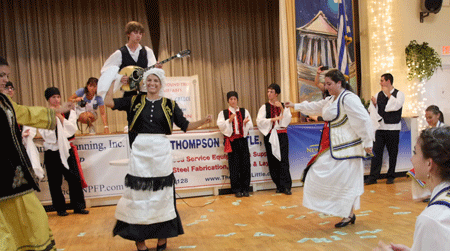 And while you are there, you can listen to the great Greek music provided by the Nick Trivelas Band, and, if the spirit moves you, join the Greek dancers for a dance or two.
Batzolas added, "If you like to dance, join us!"And before you leave, make sure you by a Greek Fest Raffle ticket for only $5. You have a chance at winning at winning the grand prize of either $2,000 cash or two round trip airfares to Athens, Greece, a large screen televi-sion or some cold, hard cash.
It's important to note, as Batzolas explained, that the money raised by the festival and the raffle stays in the community, with some money stay in the church and the remainder going into the community to support various non-profit organizations like the Autism Society and the American Red Cross.
Sts. Constantine and Helen Greek Orthodox Church is located at 614 Oakridge Ave., in Haymount. Admission and parking are free. The festival runs Friday from 11 a.m. to 10 p.m., Saturday from 11 a.m. to 10 p.m. and Sunday from noon until 6 p.m. For more information, call 910 484-2010, or visit the website at www.stsch.nc.goarch.org.