North Carolina is steeped in tradition from blue grass music to BBQ and craft beer. That being the case, visitors can sample a great many of the state's finer traditions at When Pigs Fly on Nov. 15 at Festival Park.
Anyone with a bone to pick in the battle between tomato-based and vinegar-based sauces won't want to miss this event because the festival showcases the very best when it comes to the finer points of North Carolina BBQ.
Cindy Kowal, event organizer and director of Communities in Schools is excited about a distinction to the festival earned this year. When Pigs Fly is now sanctioned by the North Carolina BBQ Association. That is significant for several reasons. One of the primary reasons is that it guarantees attendees can sample fare that is prepared in accordance with age-old North Carolina traditions.
Traditional N.C. BBQ is slow cooked with only wood or charcoal fueling the fire versus cooking with gas, which lets the meat cook slower and absorb the flavor of the wood or gives it the smoky taste derived from cooking over charcoal. While the rules for cooking are strict, there is plenty of room for discussion in the tomato versus vinegar sauce debate, which festival-goers can weigh in on while sampling plenty of both.
"We are really excited to be a sanctioned event. That adds a lot of credibility to the competition and will draw more big competitors, which can only be good for the people who come out on that day," said Kowal. "Last year some of our competitors mentioned that it would be nice if we were a sanctioned competition. We decided to look into it. A lot of them were affiliated with Kansas City BBQ. But North Carolina BBQ is not like Memphis BBQ or Kansas City BBQ or Texas BBQ and we wanted to stick to standards that make sense for who we are and embrace our traditions. So we decided to go with a relatively young sanctioning organization: The North Carolina BBQ Association."
Competitors from all across the state have signed up to compete for cash, prizes and bragging rights. The categories are whole hog, pork shoulder or chicken. Contestants can compete in one category or all three.
"Last year we had teams from all over the state," said Kowal. "We are giving $7,500 in cash prizes to the BBQ teams overall winners — the grand champ is the team that receives the highest score. They will win $3,500, Reserve champ is $2,500 and the first through third place in each category receive prizes, too. In addition there is a really big trophy and a cutting board."
Wash down all that BBQ with one of the dozen craft beers that are on tap. From IPAs to porters, there is something for everyone.
"I'm really excited about this new craft beer Great Lakes. I doubt many folks have seen this one yet and I am also excited about having our new local brewery — Dirtbag — on hand. For non-BBQ lovers, R Burger will offer a BBQ alternative," said Kowal.
In addition to great food and drink, four bands are set to play throughout the day. Big Daddy Love is from Charleston, South Carolina.
"Our State Magazine put together a scenic mountain play list and Big Daddy Love is on that list," said Kowal.
Supatight Funk started in Durham and moved to the Asheville area.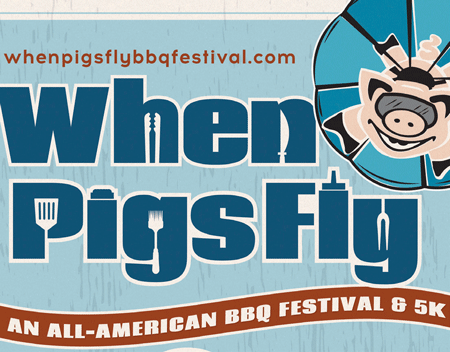 "They can do anything — funk, groove, country, rock. They have a lot of great original music, too,," said Kowal.
Doc Aquatic started in Fayetteville before moving on to Asheville. "When we mentioned the bands to the under 35 crowd, the response was great. It is going to be a lot of fun," Kowal added. "The final band is the Oak Grove String Band, a traditional blue grass band. We had some incredible blue grass bands last year and people asked for more variety. You will see that this year."
If you are worried about calories, burn a few at the 5K that is run in conjunction with When Pigs Fly. The course is somewhat challenging and is sure to build an appetite. It hits Haymount Hill pretty early in the race and then the hills in Haymount keep things interesting. It's definitely not a flat course.
"This year we have great prizes for the overall male and female winner; each will win a Dell tablet, donated by Dell Military. Because our pig noses were so popular last year — we're also giving a prize for the best 5K costume. So, although it's a challenge, it'll be a fun race, too. And, the smell of BBQ is a pretty good motivator," said Kowal.
VIP tickets are available and include a private concert on Friday night. The gates open at 7:30 p.m. Teams will be in Festival Park throughout the night grilling goodness, with Saturday's events beginning at 11 a.m. and going to 6 p.m.
Proceeds support Communities in Schools, which advocates for students in Cumberland County Schools. Communities in Schools leverages resources, which allows teachers to teach and kids to learn.
"We touched more than 20,000 kids last year," said Kowal. "And there are still many that need our help."
Find out more about When Pigs Fly at www.cisofcumberland.org/when-pigs-fly.
Photo: Communities in Schools is bringing some great North Carolina traditions to Festival Park: BBQ, craft beers and Blue Grass. Join the fun on Nov. 15 and help bring much needed resources to Cumberland County Schools and students.