FireAntz right winger Kyle McNeil, is in his fourth professional season in Fayetteville where he has recorded 17 points on 10 goals and 7 assists through 42 games. The Cambridge, Ontario native has spent his entire professional career in Fayetteville and says that he "really appreciates the fans, the city, and the FireAntz organization." During his time here in Fayetteville, McNeil has enjoyed the opportunity to give back to the community through the Heart of Carolina Food Drive every year.
Growing up, McNeil looked up to legends like Wayne Gretzky and Wendell Clark, who inspired him to pursue a career in professional hockey. On game day, McNeil enjoys lunch from Fazoli's after a morning skate followed by 2-3 hours of sleep. On the way to the rink, McNeil makes his routine pit stop at Starbucks. Just like most, McNeil dresses one foot at a time, but he is a bit superstitious when gearing up pregame, dressing from left to right for every game. Once he is finished playing, McNeil hopes to pursue a career in coaching while also becoming certified in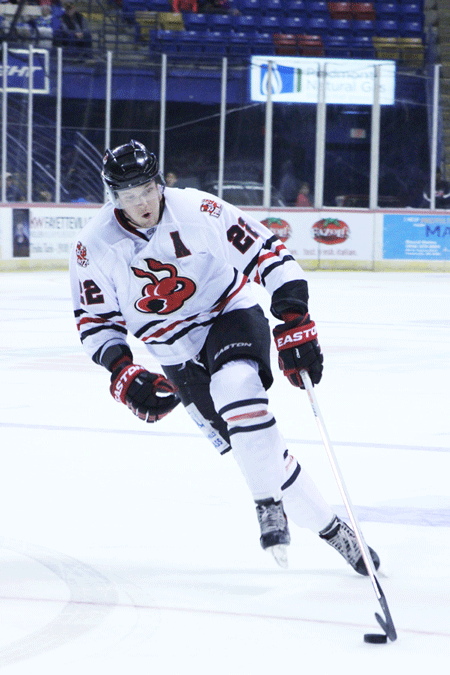 Crossfit.
This season, McNeil's roommate is rookie Austin Daae who is also a race car legend. McNeil says something that the public may not know about Daae is "he enjoys cartoon movies." In the off season, McNeil spends time in Canada with family, but also makes it back down to Fayetteville and Myrtle Beach, where he enjoys the golf courses as well as a good steak from none other than Texas Roadhouse.
Favorite Song: Talladega by Eric Church
Favorite Movie: Goodfellas/Breakfast Club
Favorite Alcoholic Beverage: Bud Light
Favorite Sports Team: Toronto Maple Leafs
What would you do for a Klondike bar? "I would go 0-100 real quick."
Photo: Kyle McNeil, FireAntz right winger