There's been a lot of changes over the summer to Fayetteville hockey. The FireAntz have welcomed a slew of new players to the team, and they have welcomed three new teams to the league. Even with all the changes, fans can still expect to a great season.
"We have brought back 10 players, but at least half of our team will be new," said Dean Russell, the vice president of sales and marketing. "The guys are fi nding their place and getting to know each other. We got off to a slow start, but the players feel that they are coming together."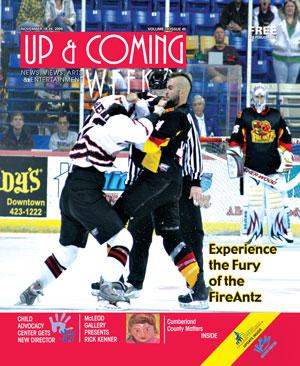 As the team gels, Russell said fans can expect to see the hardhitting hockey they've come to expect from the team.
"This should be our year," said Russell. "Last year we were one minute and a half away from winning the championship. The guys really feel like it's their year."
Leading the team will be veteran player Rob Sich, who has started the year in a big way. Sich leads the league in goals at this point of the season.
Bryan Bridges will keep the goal hot again this year. Russell said Bridges is playing very well, and he expects him to be key in the FireAntz success this season.
New faces to watch are Jesse Biduke, a forward who has been playing a three game tryout with the team. Biduke impressed the coaching staff, and he is expected to stay in the lineup for the remainder of the season.
Also new to the lineup is Connor MacDonald. MacDonald has been playing in Wichita, Kan., but was recently released.
"He is a very tough kid," said Russell. "We were very excited to pick him up."
The team is going to need the added power, as they are joined in the league by three new teams.
"The dynamics of the league have changed," said Russell. "We have added three teams that we are calling the I-10 rivalry. All three teams are located along Interstate 10."
The teams, located in Mississippi, Louisiana and Florida, have made a very noticeable change in the scheduling for this season. FireAntz fans will fi nd their team on the road a lot more; however, they will have more
weekend-long stands and will be in the community more during the week.
One of the new teams, the Ice Gators, has a little in common with Fayetteville — the city shares our namesake. The Ice Gators are based in LaFayette, La. In December, Mayor Tony Chavonne will issue a challenge to the mayor of LaFayette during a homestand here in Fayetteville. The winner of the best of three will pay up - either a southern barbecue meal from Chavonne or a Cajun dinner from the LaFayette mayor.
"It's all in good fun," said Russell.
For more on the FireAntz, check out the team's interactive Web site at www.fi reantzhockey.com. The site has everything from player stats to upcoming appearances.