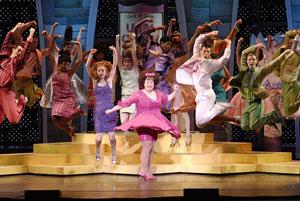 Dig out that rattail comb and old can of Aqua Net®, and make sure every hair is teased and plastered in place for the Broadway show performance of Hairspray, coming to the Crown Theatre on Sunday, Feb. 28 at 8 p.m. as part of the Community Concerts of Fayetteville series.
Based on the New Line Cinema fi lm written and directed by John Waters, Hairspray is set in Baltimore in 1962. Big-hearted Tracy Turnblad just wants to dance. After winning a spot on the local TV dance program, The Corny Collins Show, plus-size Tracy with her big hair Twists, Watusis and Swims into celebrity status as she wins the heart of teen idol Link Larkin, integrates a TV show –– and overthrows the current teen queen's reign.
Hairspray, big on fun, music and choreography, was a smash hit, winning eight 2003 Tony Awards, including Best Musical, and spending more than six record-breaking years on Broadway.
"Hairspray coming to Fayetteville is such a great opportunity for our community," said Kathy McKnight, vice president of marketing for the all-volunteer, nonprofit Community Concerts, Fayetteville's oldest arts organization "whose sole mission is to bring the finest in top-notch entertainment to Fayetteville." "This presentation is absolutely what the Community Concerts of Fayetteville organization is all about! Bringing productions like this only enhances our cultural credibility as an excellent community to live, work and play in," continued McKnight. "We're very excited to be partnering with Community Concerts," said Natalie Lewis, marketing and promotions manager for the Crown Center. "This is a top-of-the-line Broadway show."
Or as '60s icon Ed Sullivan might have put it, Hairspray is "…a really big shew!" Tickets are $20-$34 and may be purchased at the Crown Center Box Office, Ticketmaster.com, all Ticketmaster outlets or by phone at 1-800-745-3000.
For more information, contact Community Concerts at (910) 323- 1991 or the Crown Center at (910) 438-4100.